Meet Jasmeet Flora-Drage, Allied Health Team Leader at our Geraldton hub!
Jasmeet joined our team in mid-2021 and loves working with her Geraldton team. As a Speech Pathologist, Jasmeet has mostly worked in regional areas however she began her career in the disability sector as a support worker.
While studying to become a therapist, Jasmeet followed a student placement opportunity to Geraldton. She decided that working and living regionally was what she wanted to do, and moved to Geraldton as a therapist.
Find out more about Jasmeet and her role with Rocky Bay with our Q&A!
How long have you worked at Rocky Bay?
I have worked at Rocky Bay since June 2021. I initially connected with Cheryl Lockwood (previously Geraldton's Site Coordinator) as a networking opportunity and to welcome her and Rocky Bay to our amazing community. It wasn't long until she convinced me to apply for the Team Leader position, and here I am!
Describe what a typical day looks like for you?
Firstly, Coffee, coffee, coffee!
As Team Leader for the Geraldton hub, every day looks completely different. I am so lucky to have an amazing team of therapists and support coordinators in my team who make work enjoyable, and support me to do my job well.
A typical day will often involve meetings on Microsoft Teams and in person. I am lucky to still have a customer base, so I might visit a school or a group home or see some customers at our hub. If I'm good, I might remember to water the plants at the hub! I might volunteer for a community event after work, before heading home to my husband and dogs.
Tell us more about your experience in the sector?
I am a Speech Pathologist and have spent majority of my career working in regional areas, from the Midwest/Gascoyne region, the Murchison region, Kimberley region to the Indian Ocean Territories (Christmas and Cocos Keeling Islands).
I am incredibly passionate about providing accessible services to people in my community. I came to Geraldton for my student placement and I was convinced that living and working regionally was for me. You should try it! I started my journey in the disability sector as a live-in support worker. When I moved to Geraldton as a therapist, I knew that eventually I would find my way back to the disability sector.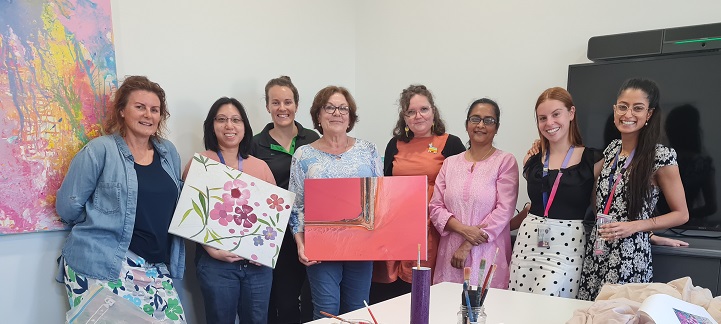 What do you love most about your role?
I love that I work for an organisation that is supporting my growth and development as a therapist and a leader. I love that I can tap into the resources and support from Rocky Bay's Metro hubs to give my community a much needed service.
I enjoy being creative and innovative and most of all, collaborating with services in the community to fill in those gaps! I enjoy student supervision and mentoring – I had a wonderful experience as a student and I hope to pay that forward and inspire more students to live and work regionally.
What do you love to do in your free time?
I enjoy participating in community events. I am the Chairperson of a local primary school and involve myself in community events in Geraldton. I love sharing a meal and having a drink with my family and friends. I love yoga, painting and the beach!
What are some things you can't live without and why?
Garlic Bread – my most favourite food in the world, I even mentioned it in my wedding vows!
Social events – as an extrovert, I get a lot of my energy from the people around me. I love hosting parties, sharing meals and the feeling of belonging when I am with my friends, family and in the community.
Sun and salt – if there is one thing I know for sure, it is that I need to live near the ocean! I love swimming, diving, snorkelling, sitting on the beach and stand up paddle boarding.
My amazing husband – he's worth a mention as my biggest cheerleader!