With movement, anything is possible.
Whether you've had a life changing event, or been living with a more permanent disability, Rocky Bay physiotherapists can help you regain some independence and get you moving. Our physiotherapy team will partner with you to maximise your health, posture, mobility and function.
No matter your age, ability or goals, we'll partner with you to find the possibilities. It might be learning to walk again; prescribing mobility equipment and assistive technology, or learning a movement crucial to excel in your favourite sport – if that's your goal, we'll help you work towards it.
Age

Diagnosis

Amputations (Single/Multiple)
Angelman Syndrome
Arthrogryposis
Aspergers
SEE MORE
Attention Deficit (Hyperactive) Disorder
Autism/PDD
Batten Disease
Bi-Polar
Blind/Vision Impairment
Brain Injury (Acquired)
Brain Tumor
Charcot-Marie-Tooth Disease
Charge Syndrome
Cornelia de Lange Syndrome
Cri du Chat Syndrome
Deaf/Hearing Impairment
Dementia / Alzheimer's
Developmental Delay (0-8 years only)
Down Syndrome
Dysgraphia
Dysreflexia
Ehlers Danlos Syndrome
Encephalitis
Facial Auricular Vertebral Syndrome
Fibromyalgia
Fragile X Syndrome
Friedreich AtaXia
Generalised Dystonia
Guilliane Barre Syndrome
Hallervorden Spatz Disease
Huntington's Chorea
Intellectual Disability
Laurence Moon-Bartel Syndrome
Microcephaly
Minicore Myopathy
Motor Neurone Disease
Moyamoya Disease
Multiple Sclerosis
Muscular Dystrophy
Nemaline Rod Myopathy
Obessive Compulsive Disorder
Parkinson's Disease
Poliomyelitis
Prader-Willi Syndrome
Psychiatric Disability
Rett Syndrome
Seckel Syndrome
Spastic Paraparesis
Speech Impairment
Spina Bifida
Spinal Cord Injury
Spinal Muscular Atrophy
Stroke
Trisomy 18
Tuberous Sclerosis CompleX
Williams Syndrome
SEE LESS
Our team work with you at a Rocky Bay hub, or in your home, school, place of employment or community setting, the choice is yours. Our accessible, low sensory indoor hydrotherapy pool at Mosman Park provides a relaxing experience for pain relief, exercise, muscle and functional improvement.
Physiotherapy at Rocky Bay doesn't happen in a silo, we partner with other health specialists to provide holistic services, all working together towards your goals.
Specialty services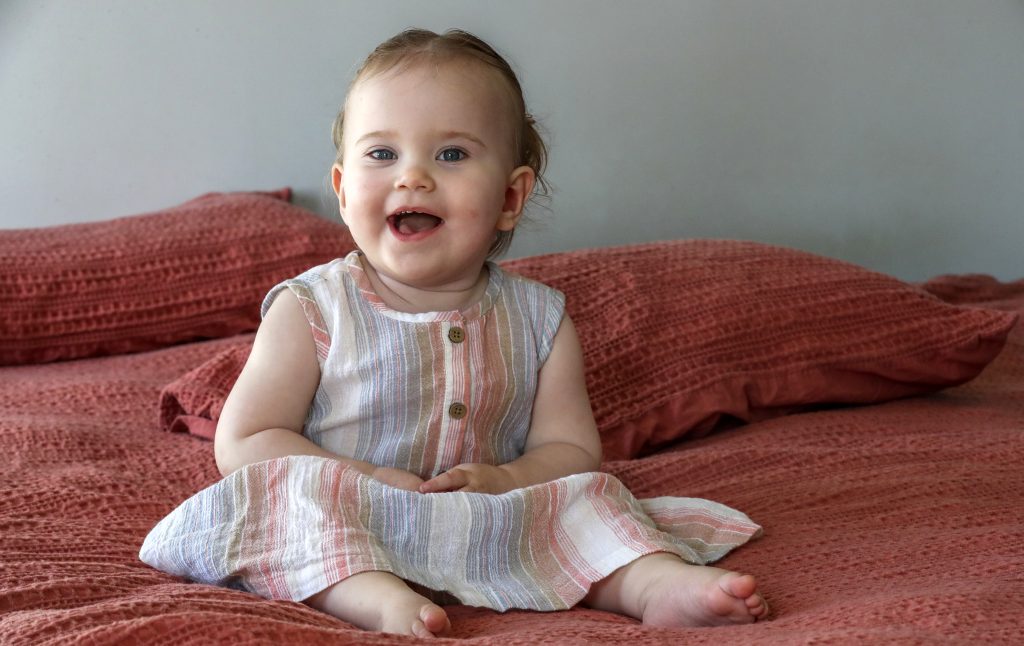 Evelyn
Evelyn Cheater is a happy and engaging 18-month-old who loves...