Lady Lawley Cottage – children & youth hub

Rocky Bay is excited to be supporting children and youth from Lady Lawley Cottage with a range of specialist children's services.
After the runaway success of the recent school holiday program, Rocky Bay is delighted to be able to offer the same activities on Wednesdays and Saturdays. Our Wednesday program will commence Mid June and our Saturday program will commence in July.
These engaging workshops are not only incredibly enjoyable but also provide a platform for developing friendships, fostering self-expression, and honing valuable skills.
Check out the schedule below: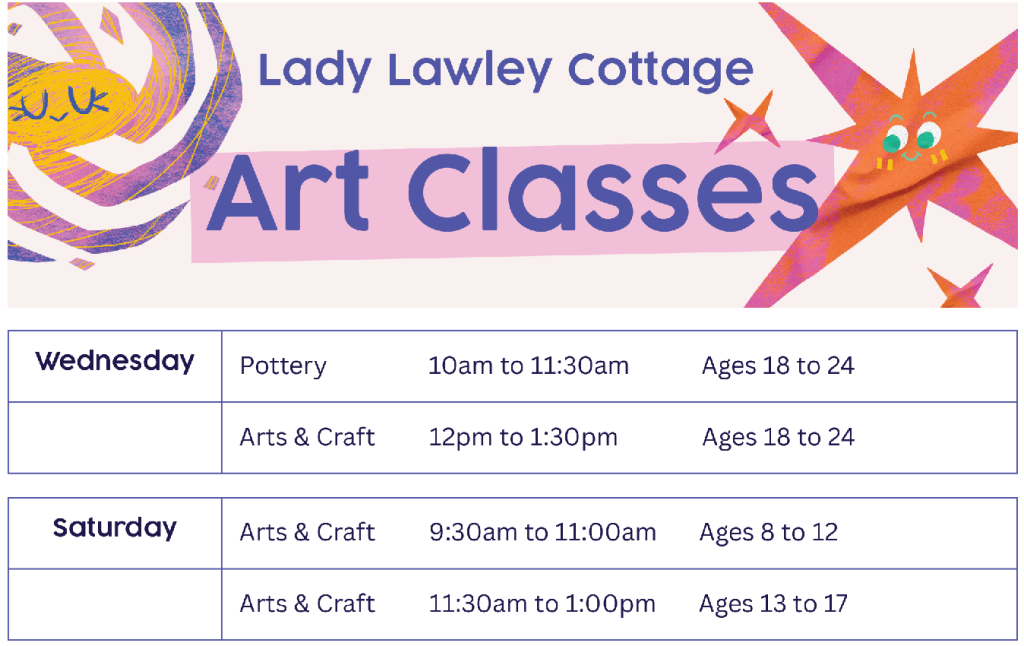 Each class is priced at $35, and securing your spot is essential. Don't miss out! Register by completing the contact form below.
For any further enquiries, refer to the FAQ section below or reach out to our friendly Customer Engagement Team at (08) 6282 1900. We hope your child is as excited as we are to embark on this creative journey!
Scroll for for FAQ's and to register!
Age

Children, Teens, Young adults
Diagnosis

Amputations (Single/Multiple)
Angelman Syndrome
Anti-NMDA Receptor Encephalitis
Arthrogryposis
SEE MORE
Attention Deficit (Hyperactive) Disorder
Autism/PDD
Batten Disease
Bi-Polar
Blind/Vision Impairment
Brain Injury (Acquired)
Brain Tumor
Cerebral Palsy
Charcot-Marie-Tooth Disease
Charge Syndrome
Cornelia de Lange Syndrome
Cri du Chat Syndrome
Deaf/Hearing Impairment
Dementia / Alzheimer's
Developmental Delay (0-8 years only)
Down Syndrome
Dysgraphia
Dyslexia
Dysreflexia
Ehlers Danlos Syndrome
Encephalitis
Epilepsy
Facial Auricular Vertebral Syndrome
Fibromyalgia
Fragile X Syndrome
Friedreich AtaXia
Generalised Dystonia
Guilliane Barre Syndrome
Hallervorden Spatz Disease
Huntington's Chorea
Intellectual Disability
Laurence Moon-Bartel Syndrome
Lennox Gastaut Syndrome
Microcephaly
Minicore Myopathy
Motor Neurone Disease
Moyamoya Disease
Multiple Sclerosis
Muscular Dystrophy
Nemaline Rod Myopathy
Neurodiverse
Neuromuscular Disorders
Not relevant to service
Obessive Compulsive Disorder
Parkinson's Disease
Pierre Robin sequence (PRS)
Poliomyelitis
Prader-Willi Syndrome
Psychiatric Disability
Rett Syndrome
Seckel Syndrome
Spastic Paraparesis
Speech Impairment
Spina Bifida
Spinal Cord Injury
Spinal Muscular Atrophy
Stroke
Trisomy 18
Tuberous Sclerosis CompleX
Williams Syndrome
SEE LESS
To book or for more information on these different classes and fees, contact our friendly Customer Engagement Team on (08) 6282 1900 or complete the contact form by clicking the link below.