Delight your senses at one of four Rocky Bay Sensory Rooms, located at Mosman Park, Nollamara and Duncraig.
Rocky Bay's state of the art Sensory Rooms are designed to increase sensory stimulation, enabling people with disability to interact with and control their environment in a gentle and relaxing way.
The Sensory Rooms also provide:
A new and different place to spend time, encouraging activity and allowing visitors the opportunity to explore the environment
Non-directive activities that help communication
An enjoyable, safe and secure environment that allows visitors to relax physically and mentally
A place to develop social skills, interaction and awareness of others
An opportunity to learn and acquire new skills.
Age

Diagnosis

Amputations (Single/Multiple)
Angelman Syndrome
Anti-NMDA Receptor Encephalitis
Arthrogryposis
SEE MORE
Aspergers
Attention Deficit (Hyperactive) Disorder
Autism/PDD
Batten Disease
Bi-Polar
Blind/Vision Impairment
Brain Injury (Acquired)
Brain Tumor
Charcot-Marie-Tooth Disease
Charge Syndrome
Cornelia de Lange Syndrome
Cri du Chat Syndrome
Deaf/Hearing Impairment
Dementia / Alzheimer's
Developmental Delay (0-8 years only)
Down Syndrome
Dysreflexia
Ehlers Danlos Syndrome
Encephalitis
Epilepsy
Facial Auricular Vertebral Syndrome
Fibromyalgia
Fragile X Syndrome
Friedreich AtaXia
Generalised Dystonia
Guilliane Barre Syndrome
Hallervorden Spatz Disease
Huntington's Chorea
Intellectual Disability
Laurence Moon-Bartel Syndrome
Lennox Gastaut Syndrome
Microcephaly
Minicore Myopathy
Motor Neurone Disease
Moyamoya Disease
Multiple Sclerosis
Muscular Dystrophy
Nemaline Rod Myopathy
Neuromuscular Disorders
Obessive Compulsive Disorder
Parkinson's Disease
Poliomyelitis
Prader-Willi Syndrome
Psychiatric Disability
Rett Syndrome
Seckel Syndrome
Spastic Paraparesis
Speech Impairment
Spina Bifida
Spinal Cord Injury
Spinal Muscular Atrophy
Stroke
Trisomy 18
Tuberous Sclerosis CompleX
Williams Syndrome
SEE LESS
The rooms boast a range of equipment including bubble tube with remote controls, vibro acoustic bean bag , solar projector, fan light – sound activated and fibre optic lighting. Most of the equipment can be used by either standard control or colour coordinated paddle switches.
Locations
Mosman Park – 60 McCabe Street, Mosman Park, WA, 6012
Nollamara – 107 Hillsborough Drive, Nollamara, WA 6061
Duncraig – 15 Chessell Drive, Duncraig, WA, 6023
Opening Hours
Monday and Tuesday 8:30am-5pm
Wednesday to Friday 8:30am-10:30am and 2:30pm-5pm
Cost
$5 for all first time customers for a 15 minute orientation session, then:
$5 per hour for Rocky Bay customers
$25 per hour for non-Rocky Bay customers.
First Visit Orientation
Prior to your first use of the sensory room we will orientate you so you understand how to use the equipment and make the most of your sessions. This session will take approximately fifteen minutes. It is a condition of hire that all users of the sensory equipment be fully orientated and in attendance with your support person or family member at all times.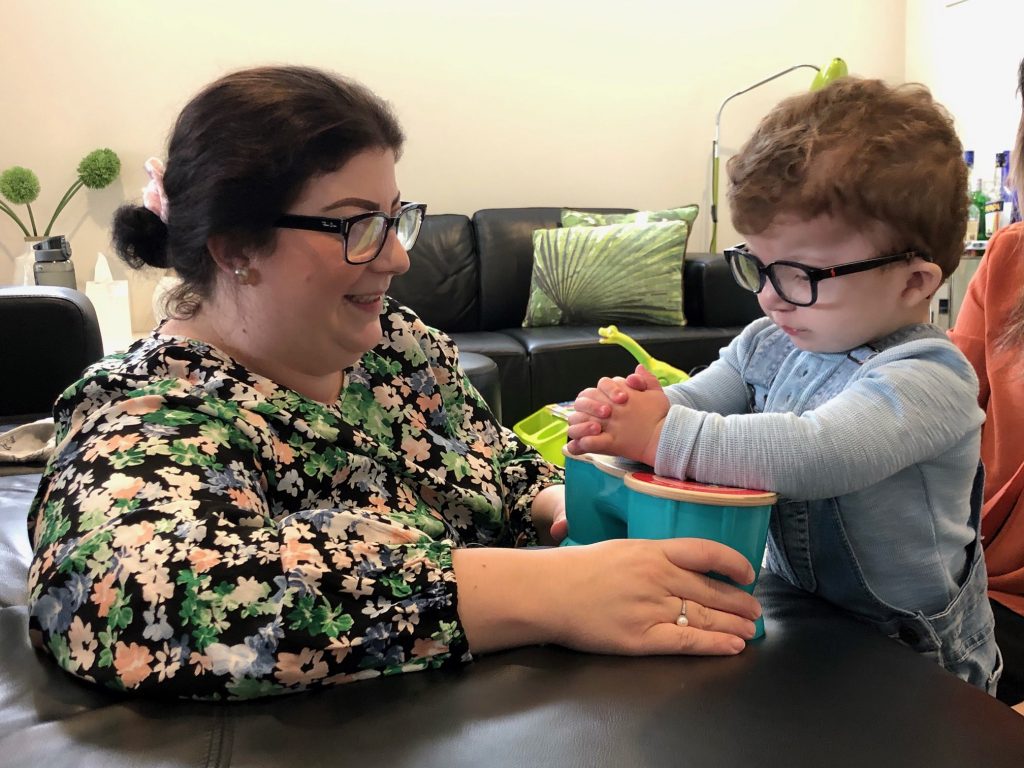 Henry
Developmental Delay (0-8 years only)
Pierre Robin sequence (PRS)
Henry Duca, a bright and happy two-year-old, has had a...