A break can be reinvigorating for you and your family while also acting as a stepping stone to independent living. Rocky Bay provides short term accommodation at our Guest Houses in Rockingham, Beeliar, Gosnells and Noranda (coming soon).
Respite can help you and your loved ones by providing a short holiday away from your normal activities.
The houses cater for those aged 18 years and over and are fitted with the latest technology and equipment to make your stay comfortable and relaxing.
Age

Diagnosis

Amputations (Single/Multiple)
Angelman Syndrome
Arthrogryposis
Aspergers
SEE MORE
Attention Deficit (Hyperactive) Disorder
Autism/PDD
Batten Disease
Bi-Polar
Blind/Vision Impairment
Brain Injury (Acquired)
Brain Tumor
Charcot-Marie-Tooth Disease
Charge Syndrome
Cornelia de Lange Syndrome
Cri du Chat Syndrome
Deaf/Hearing Impairment
Dementia / Alzheimer's
Down Syndrome
Dysgraphia
Dyslexia
Dysreflexia
Ehlers Danlos Syndrome
Encephalitis
Epilepsy
Facial Auricular Vertebral Syndrome
Fibromyalgia
Fragile X Syndrome
Friedreich AtaXia
Generalised Dystonia
Guilliane Barre Syndrome
Hallervorden Spatz Disease
Huntington's Chorea
Intellectual Disability
Laurence Moon-Bartel Syndrome
Lennox Gastaut Syndrome
Microcephaly
Minicore Myopathy
Motor Neurone Disease
Moyamoya Disease
Multiple Sclerosis
Muscular Dystrophy
Nemaline Rod Myopathy
Obessive Compulsive Disorder
Parkinson's Disease
Poliomyelitis
Prader-Willi Syndrome
Psychiatric Disability
Rett Syndrome
Seckel Syndrome
Spastic Paraparesis
Speech Impairment
Spina Bifida
Spinal Cord Injury
Spinal Muscular Atrophy
Stroke
Trisomy 18
Tuberous Sclerosis CompleX
Williams Syndrome
SEE LESS
The Bush Retreat
Located a short drive from Cockburn Central Gateway, Garden City and Fremantle, this house is ideal for anyone who wants a quiet break but still wants to be close to all the action.
The Country House
Nestled in the eastern suburbs of Metropolitan Perth is the quiet, comfortable hideaway, The Country House. With stunning views of the hills from the garden, plenty of room to stretch out and enjoy your space and plenty of activities to choose from, you'll feel like you're miles from anywhere!
The Beach House
Located a stone's throw from the quiet shores of Mangles Bay Beach and close to the Rockingham foreshore shops, you can benefit from a relaxing time away to recharge your batteries, meet some new people, and enjoy your own space.
Parkland Retreat (Coming Soon)
Opening this October, Parkland Retreat is our very first guest house in Perth's northern suburbs. This unique space is a special blend of style, comfort and fun. Located close to parklands such as the iconic Whiteman Park. We can't wait to welcome you to experience this new home. To register your interest, please click the button below.
For more information, or to book, please call 6282 1900 or contact us on the form below.


Check in and Check out is available from 3-4pm. Alternative arrangements can be made with each house. For more information, please call our friendly Customer Engagement Team on (08) 6282 1900.
King-size single ensemble beds or fully adjustable hospital style beds
Wardrobe
Bedside table
Chair
Lamp
Desk (on request)
Clock
TV point (on request)
All linen
Each guest has their own room; however, The Beach House (Rockingham) has 2 rooms with 2 individual beds if you are interested in sharing with a friend.
Free Wi-Fi is available at each house for our guests to use. As streaming services are not available, we recommend you download movies and TV shows before coming to stay.
During your stay, there will be a number of activities that are available for you to join in. Some will be free activities, and some may require entry fees, like bowling or rock climbing.
Rocky Bay has qualified staff on hand to make sure your stay is fun and comfortable, while also meeting your support needs. Your family/support worker are welcome to pop in to visit.
Our staff takes time in getting to know you before your staycation. We want to know everything that makes you you to ensure your holiday is as comfortable as possible. Our staff not only care about what you like and don't like, they are highly qualified and experienced in support, so you never need to worry.
The houses are not open to rent privately by groups, but your family are always welcome to pop in for visits.
To holiday at one of our guest houses, you need to be at least 18 years of age.
For the safety of your pet and the other guests in the home, we can't accept animals in any house.
Of course! We want to make sure that your stay is as comfortable as possible, so if you would like to bring in additional items we are happy to accommodate you. We recommend that you label your property with your name and record it on your clothing list so that it makes it home with you at the end of your stay.
Each guest house caters to specific nutrition requirements and mealtime management plans. Our support workers will cook your meals for you. We even invite you to assist with the planning and cooking, if that's what interests you!
It's not essential for you to bring much in the way of clothes as we have washing and drying facilities at each guest house. Our support workers will happily launder your clothes for you.
The guest houses have qualified support workers that assist with personal care and medications.
Please note: For your safety, all medications must be supplied in Webster packaging from your pharmacist.
Yes, parking is available at each house, please check with our Customer Engagement Team on (08) 6282 1900 for more information.
If you have work commitments, appointments or a schedule to stick to we recommend you arrange transport through family or a Support Worker.
However, we may be able to assist you so please speak with one of the Team Leaders when booking your stay.
Our staff are all qualified in Eating/Drinking and Swallowing (Meal Time Management), and are happy to prepare your meals for you.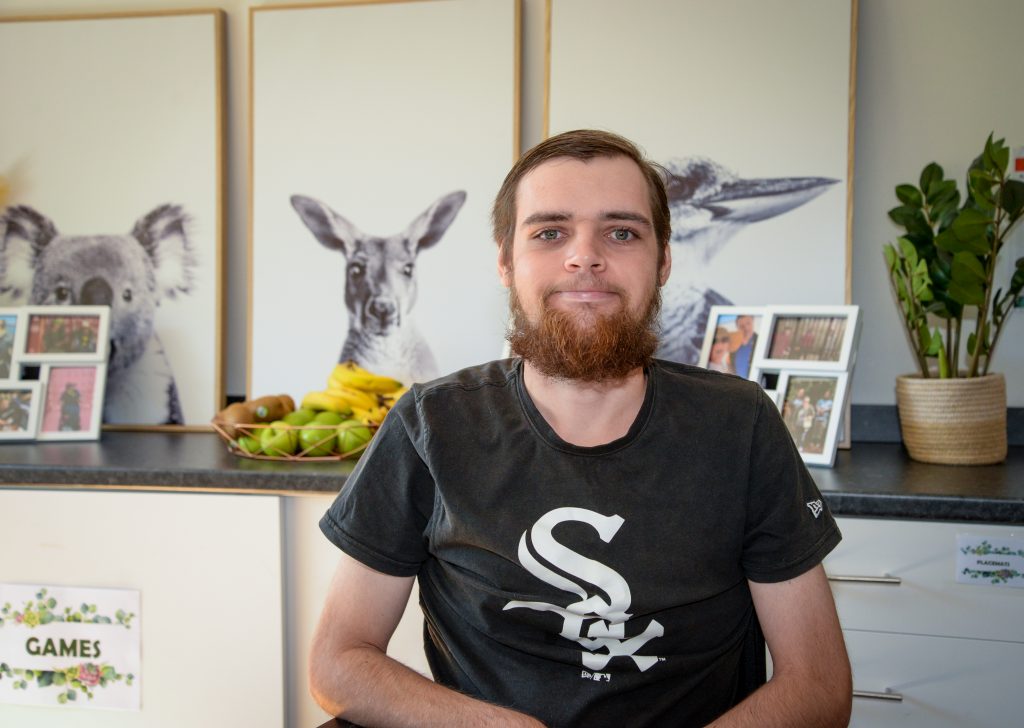 Jarrod
Brain Injury (Acquired)
Brain Tumor
Jarrod Douglas was 20 years-old when he was diagnosed with...