For Rocky Bay customer Debbie Briggs, starting her own business has been a long time coming, embarking on a journey that has seen her triumph and overcome myriad challenges.
"I never thought I would one day have my own business," says Debbie, who just one year ago was struggling with tasks in her day to day life.
Encouraged by Rocky Bay, Debbie began attending psychology appointments through a mental health care plan and also started to regularly see an occupational therapist and physio to help manage her osteoporosis and rheumatoid arthritis.
To alleviate her anxieties, mindful activities such as silk flower arrangements and Diamond Art allowed Debbie to keep her mind on the right track. Following compliments from family, friends, and support personnel, Debbie decided to turn her hobby into a business.
"The Rocky Bay support staff suggested I sell my flowers and art at the markets," said Debbie.
"I went to my local market and all of a sudden I was selling my work, that's how I started."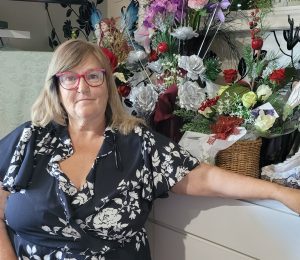 Twelve months on, Debbie has made a huge transformation by turning her life around. Registering her business and completing a New Enterprise Incentive Scheme at TAFE, Debbie continues to build the business by extending her skills and is about to embark on a nine month mentoring program.
"The team at Rocky Bay really helped build my self-esteem. People are starting to see that I'm feeling a lot more positive about where I'm going," said Debbie.   
She also received assistance for home modifications and equipment to keep her moving and independent while continually checking in with Jenny Kastner, a Rocky Bay NDIS Support Coordinator.
"Debbie really has come such a long way," said Jenny.
"It's amazing that she has accomplished what she has when not so long ago, she struggled to attend any of her appointments."
Burdened with medications costs of $150 a week, and not being eligible for Centrelink payments, life isn't easy, but Debbie is determined to make her business work.
She is continually building relationships with wholesalers setting up stalls at markets and festivals to promote her business 'Deb's Silk Flowers,' has established her social profiles, and is now working on developing a website.
"Debbie's progress is inspiring," said Jenny.
"Her achievements show that through team effort, encouragement and determination, anyone with a disability is capable of reaching their dreams."
To support Deb's Silk Flowers you can find her on her Facebook page. To find out more about Rocky Bay's therapy services, please call 6282 1900.