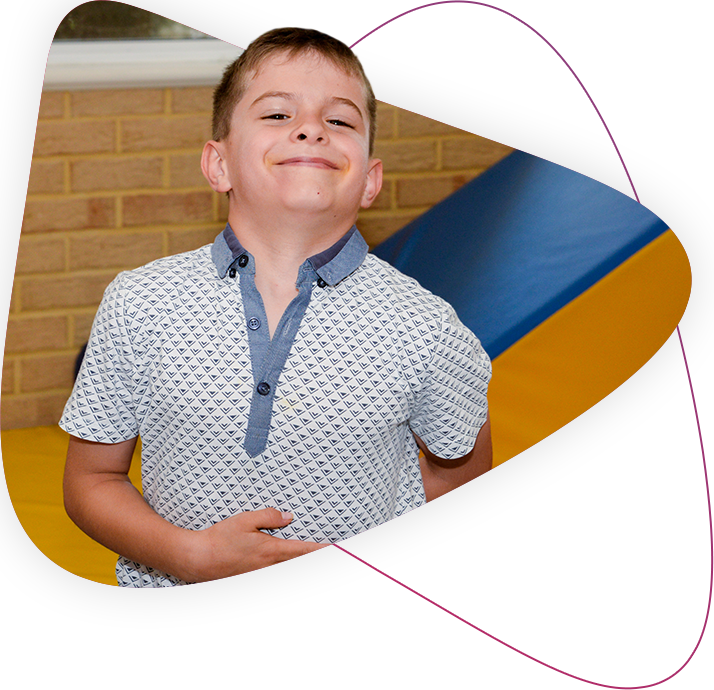 In March 2023, Rocky Bay was excited to welcome its first young customer, bubbly eight year-old William Richardson, to Lady Lawley Cottage in Cottesloe – Rocky Bay's new child and youth facility. 
After being vacant for three years, the site will be reinvigorated over the next year to support children and youth from infancy to 24-years of age. Commencing with specialist therapy services – spanning physiotherapy, occupational therapy, speech pathology, paediatric continence, dietetics and podiatry clinics – Community participation and respite programs will gradually be introduced as we embark on a renovation and restoration project on the cottage.  
William, who lives with autism, has partnered with Rocky Bay for the past three years – receiving speech pathology, occupational therapy and some physiotherapy. He has been learning about what autism is with his Advanced Clinician Occupational Therapist, Megan McIntyre, as well as learning skills to help him process the world around him. 
William lives at home in East Fremantle with his parents Sarah and Angela Richardson, and his equally bubbly twin brother, Edward. 
"Autism is like my little superpower," says William. 
"I've learnt that some people have their weaknesses, some people have their strengths…I'm good at writing, sports, jumping, eating, telling animal facts, and plants." 
William's goal is around self-advocacy, which includes learning more about how he experiences the world a little differently to neuro-typical people. 
"For William this is about identifying that he has autism, and an acceptance of that. Megan teaches him to accept himself as he is and how to navigate the world," explains Sarah. 
"He doesn't feel like he's different, he just understands the world a bit differently." 
Sarah says she is happy with the quality of therapy William has been accessing at Rocky Bay, which he usually receives in the home "which has worked phenomenally" for William. He loves engaging people and works so well with Megan, which Sarah says is a true reflection of William and his approach to therapy. 
"The services have so far been superb. We moved (from another provider) and came to Rocky Bay…the services are so individual." 
William has made great progress over the years, with his family receiving an initial diagnosis at an early age that he would be non-verbal. 
"We then started sign language with him very early…so he's gone from a diagnosis of non-verbal to where he is now, he is amazing. Their minds are plasticine…if you can (instill the learning) and put it in frequently and with quality, then it's the small things that become massive…it's about repetition and continuity."  
Sarah says they look forward to other services and programs launching at Lady Lawley Cottage, particularly groups for William to attend. 
"For me the fact that Lady Lawley is local is phenomenal, it's familiar – it looks like a home. For William not to feel like he's coming to a hospital type setting is great…it's friendly, it makes him feel at home and obviously he's never been here before, but he is quite comfortable. (This space) being given to families is fantastic." 
Community services will begin at Lady Lawley Cottage on 17 April 2023, beginning with a school holiday program. 

The services have so far been superb. We moved (from another provider) and came to Rocky Bay…the services are so individual.
- Sarah Richardson, William's mum