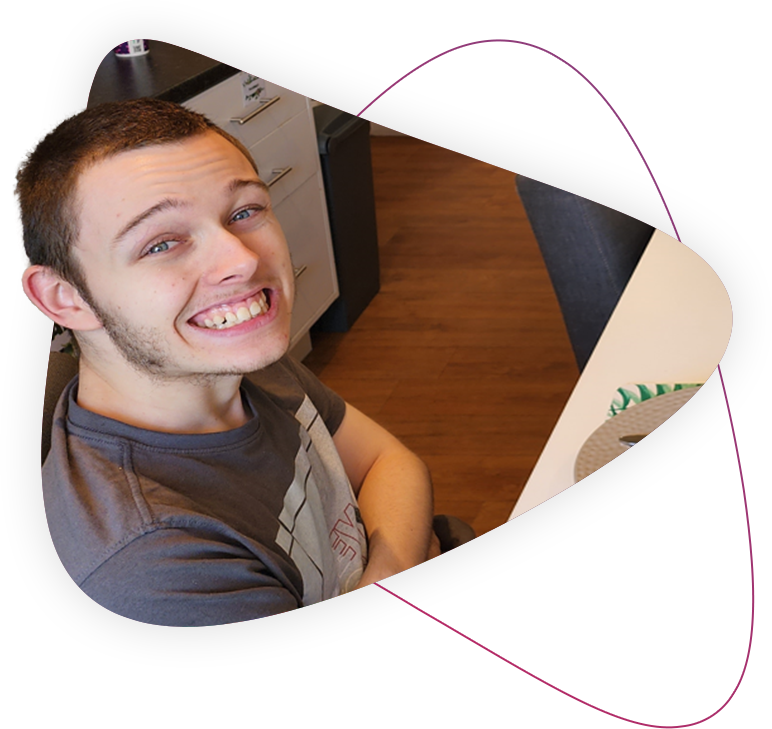 Seeking support from a respite service for a loved one not only gives them the opportunity to flourish in new surroundings and make new friends, it's also important for carers and families to take a breath, so they can continue to be the best carers they can be.
Brett Byworth, whose 20-year-old son Mason experienced his first overnight stay at Rocky Bay's respite guest house – The Bush Retreat – earlier this year, says not only did Mason enjoy his time, but it allowed his family to spend time together.
"(Respite) gives our family a much-needed respite and the ability to spend quality time with each other away from the family home. For Mason, it is his own special holiday where he can plan his own day and evening activities," says Brett.
Mason, who lives with autism, was slowly introduced to the Bush Retreat prior to his first stay. Bush Retreat Team Leader, Tiana Liddel, explains:
"Mason started with driving past the house, with his Community support worker pointing it out to him on his way to his regular activities.
"After doing this a couple of times they stopped and knocked on the door just to say hello. Mason then progressed to coming inside the house, walking around and greeting staff and guests. We eventually got Mason to sit and have a drink, and then come to visit after his regular daily activities to spend some time and have dinner with us, before going home in the evening."
This gentle introduction to the house happened twice a week for about eight weeks, before the Bush Retreat team trialed an overnight stay for Mason.
"Mason went really well throughout this transition and handled it amazingly," says Tiana.
"We then made a regular booking of one night per week for a few weeks before he enjoyed a long stay of 10 nights."
The team's aim with Mason's initial visits was consistency. Rocky Bay's Community team ensured it was a regular support worker bringing Mason to the house each time, and Bush Retreat staff ensured consistency in the staff members present during his visits.
"I think this helped the process along greatly, as Mason was able to build a level of familiarity and trust with the new staff he was seeing," says Tiana.
Brett agrees, and was thrilled with the support that Mason received from the team.
"The team are great at Bush Retreat. They all know Mason and he gets along well with everyone there – staff and guests.
"He loves that he can plan his days and nights the way he wants to do it, and the staff at the Bush Retreat support him in doing so."
During his stays, Mason has been able to plan and enjoy a range of fun outings and activities with other guests, including visits to Perth, Kings Park and Cottesloe, bowling, shopping, and even catching one of his beloved Marvel movies at the cinema.
"Mason has expanded his network, met new people…experienced different things that he may not have been as open to in his regular routine at home," says Tiana.
"Mason has made further bookings at his own request to Brett, which is a huge win…before leaving each time asks when his next booking is."
Brett shares that Mason is always so excited about his upcoming stays at Bush Retreat. He has previously stayed at respite houses before with other providers, with those experiences not ending in a positive way. So, before Mason stayed at the Bush Retreat, a detailed plan was created to address why these previous experiences were not positive for Mason.
"This plan included several months of regular visits to the guest house for meals and other activities with his usual daytime community access carers, before Mason stayed overnight," says Brett.
"When Mason does stay overnight it coincides with his community access days, so his Rocky Bay support worker will either drop him off or pick him up after his stay.
"This personalised plan is what made so much difference to Mason, and why he was able to go from not wanting to go to overnight respite, to loving it.
"I definitely recommend Rocky Bay's guest houses to others."
To find out more about the Bush Retreat, or any of Rocky Bay's other three respite guest houses, call our friendly Customer Engagement team on 6282 1900 or click here to discover more.

A personalised plan is what made so much difference to Mason, and why he was able to go from not wanting to go to overnight respite, to loving it. I definitely recommend Rocky Bay's guest houses to others.
- Brett Byworth, Mason's dad