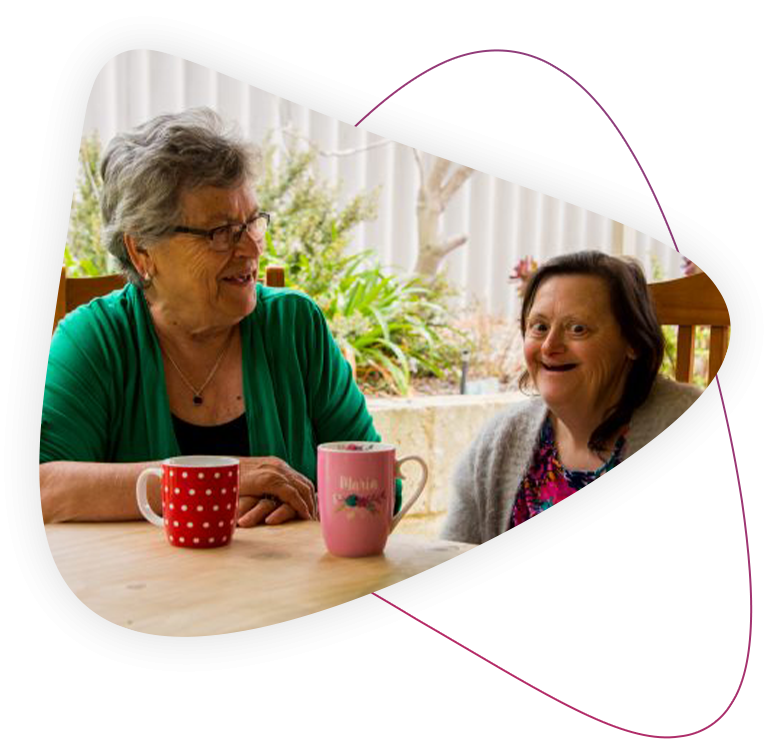 Home is where the heart is.
Family has played a significant part in Rocky Bay's very cheeky and happy customer Maria Bassano's (60) life.
Born into a loving Italian family, Maria has always had a caring and supportive network surrounding her. In fact, Maria's older sister Vita Quincy (83) was the sole carer for Maria for more than 20 years after their mother passed away – a role she was ever so happy to have played in her life.
Maria first started using Rocky Bay's services 22 years ago, when she stayed in the respite facility located at Mosman Park. Since then, she has been a regular visitor at Rocky Bay's Guest Houses in Gosnells, Beeliar and Rockingham.
The homes have provided piece of mind for Maria's family when they travel overseas or are in need of some R&R, giving them comfort in the knowledge Maria had 24/7 qualified support and care and was well-looked after in a home she was always so excited to visit.
Maria's face lights up when you ask her about her time at Rocky Bay's Guest Houses, where she would enjoy a mini getaway, going on daytrips and meeting new friends.
"She absolutely loved it there. And everyone absolutely loved Maria!" Vita said.
"Every time I used to pick Maria up from the guest homes, she would always ask if I was going to take her back because she enjoyed it so much."
When Vita found herself in a position where she could no longer take care of Maria like she was once able to, the family decided it was time to look for a more suitable long-term living arrangement which would provide Maria with the care and support she required.
Making the decision to look for full-time accommodation support for Maria was an emotional one for Vita. When Rocky Bay suggested one of their group homes as a possible option following one of her Guest House visits, any worries or angst quickly dissipated and Vita felt confident Maria would be in good hands.
To assist Maria with her transition from short-term respite services into long-term supported accommodation, Vita worked closely with the Rocky Bay team to find a suitable home which would allow Maria to live the way she wanted and to do all the things she enjoyed most.
Not a straight forward process, Rocky Bay supported Vita in submitting her applications for WA State Government funding and worked with the family to first move Maria into the Beeliar Guest House to enable her to meet the requirements to be granted funding.
While Maria and Vita awaited the funding application to be processed, they visited Rocky Bay's Rockingham group home to see whether it would suit Maria. They left that day thinking it was absolutely wonderful. Rocky Bay organised for Maria and Vita to visit the home on number of occasions to give Maria an opportunity to get to know the other residents and acquaint herself with the house before moving in.
In mid-2017, Maria moved into Rocky Bay's Rockingham group home, where she instantly fell in love with her new home and housemates – who have since become her good friends.
Maria now enjoys helping out with the day-to-day tasks in the house, including cooking, and does a spot of gardening in the home's large backyard.
When asked how she feels about her new home, Maria said "This is my home. I love it here".
Vita and Maria are both extremely grateful for the support and friendship they have received from Rocky Bay over the years and Vita feels at ease knowing Maria is capable and in caring hands.
"I never would change Rocky Bay for anything, and I have had a lot to do with them over the years," Vita added.
"I know Rocky Bay's staff always look after Maria. The lovely, caring staff always find the time to talk to us and help us – and that makes a lot of difference.
Rocky Bay has a variety of guest homes for short term respite, as well as group homes, independent living and residential long-term accommodation located across Perth's metropolitan area for adults living with disability.
With a focus on providing exceptional care, friendly support and a warm and comfortable environment, Rocky Bay can assist you or your loved one to find accommodation to meet your needs.
For more information on Rocky Bay's Accommodation options, please contact our Customer Engagement team on 6282 1900 or email [email protected]
Click here to view all our accommodation options.

"The time they spend looking after Maria – it's worth every cent. I don't know how I'd manage without Rocky Bay."