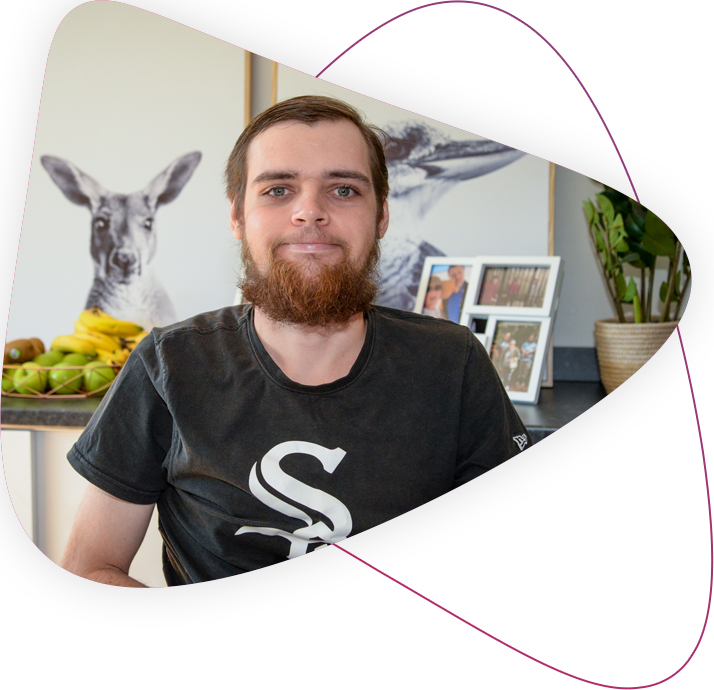 Jarrod Douglas was 20 years-old when he was diagnosed with Medulloblastoma in 2019, a type of brain cancer most common in children under eight-years-old. After radiation and surgery, he was left with an acquired brain injury affecting his speech and mobility.
Jarrod, who now requires a wheelchair for mobility, has lived and been cared for by his grandmother, Mary, since he was three years old. In January this year, Mary approached Rocky Bay seeking urgent support with therapy and respite, as caring for Jarrod and meeting his needs adequately had become extremely difficult. Accessing the necessary services in one place was also important for him, for consistency of support staff and therapists.
Jarrod had also lost weight over the past year which was a concern, so connecting with a dietitian was also of paramount importance.
After partnering with Rocky Bay in Geraldton, Jarrod received speedy access to regular NDIS support coordination, physiotherapy and speech therapy services.
After determining that Jarrod had funding in his NDIS plan for respite, the Rocky Bay Geraldton team looked for local respite options, but ran into wait lists that were several weeks long.
An immediate spot at Rocky Bay's Beeliar respite guest house – The Bush Retreat – was sourced and secured for Jarrod, and the team's next hurdle was to organise flights to Perth, which various funding avenues did not cover.
The team applied to Rocky Bay's Wishing Tree, which funds special experiences, treats or equipment for Rocky Bay customers where no other funding is possible, and were successful in receiving funding for Jarrod's flights.
However, the road blocks to get Jarrod to Perth were not yet over.
After booking the flights, the team at Rocky Bay in Geraldton were told by the airline that Jarrod could not travel alone.
"We looked at the options of paying for a carer's time to travel there and back, plus penalty rates, accommodation, their own flights and who was even available to do it," Rocky Bay's Regional Site Coordinator, Cheryl Lockwood, said.
To overcome the problem with no delay, Cheryl offered to accompany Jarrod on the flight herself to support him and ensure he got there safely, with Rocky Bay covering costs associated with her flights.
"I'm so glad Jarrod had not travelled alone," Cheryl said.
With incredibly efficient and tireless teamwork by Rocky Bay staff in both Geraldton and Perth, plans were put in place as quickly as possible for Jarrod to be flown to Perth where he is now accessing respite services at The Bush Retreat in Beeliar, along with dietetics services, occupational therapy, speech pathology and physiotherapy.
Cheryl said there have been numerous benefits for Jarrod accessing respite in Perth.
"He is so happy and wants to stay in Perth," Cheryl said.
"Being here has allowed him to connect with a dietitian…he has gained weight since staying at our respite guest house. Plus he has accessed Rocky Bay Equipment services and received a new cushion for his wheelchair."
Jarrod has also been able undergo CT scans in Perth, so that specialists can continue monitoring his cancer remission.
He has been accessing Rocky Bay's respite services since late March and is now staying ongoing while he explores long-term accommodation options in Perth.
Since joining The Bush Retreat respite guest house, Jarrod has been supported in daily living tasks, such as cooking for himself, and has enjoyed day trips, picnics and restaurant dinners, participating in group activities such as bowling and mini golf, as well as attending multiple medical appointments and obtaining much needed referrals.
The house also threw him a surprise party on the day of his arrival, as a belated 22nd birthday celebration.
"Jarrod has been supported to go fishing at the beach as he said he loved fishing, but had never got the chance to do it," Rocky Bay's Bush Retreat Team Leader, Lucy Wyatt, said.
"He also enjoys just the simple things like having a morning coffee and a chat with staff, playing Xbox, cooking meals and meeting new people."
Lucy said that Jarrod's overall feeling of well being is also much improved.
"Since arriving at The Bush Retreat, Jarrod has flourished," Lucy said.
"The changes we have seen in him since he arrived have been amazing to see. From the quiet young man that arrived, to the now outgoing and witty man who always has a smile on his face.
"He has developed long-lasting friendships with other guests and his support staff."

It's exciting to know that Rocky Bay played a part in making this young man smile and has given him a chance to greatly improve his quality of life.
- Lucy Wyatt, Bush Retreat Team Leader