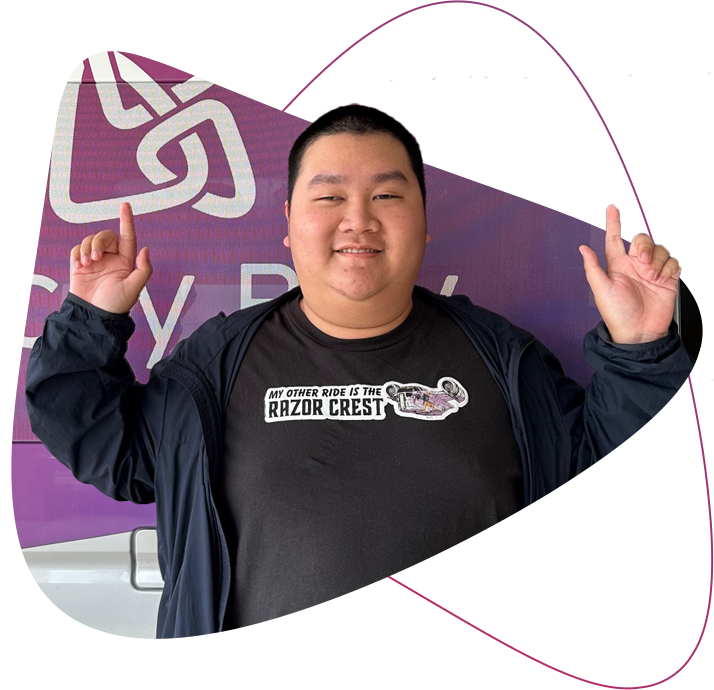 Twenty-two year-old Ian Lo is becoming a familiar face at the Country House – Rocky Bay's respite in Gosnells – having started his journey to transition into respite.
With amazing support from Ian's mum, Noven, and the fantastic support staff at the Country House, Ian is embarking on a new chapter in his goal of building his independence.
Creating a strong rapport with Noven has been important for the Country House team to understand how to best support Ian as he transitions into overnight stays. Over the past four months, Team Leader Rhylie Bennett and her team took the time to get to know Ian, his needs, and his unique personality. They discovered that Ian loves making new friends, exploring his creativity, sticking to his routines, and spending quality time with his loved ones. From this, the team were then able to tailor their approach to provide Ian with the best possible support.
Ian's short-term goal has been to spend time at the Country House independently. This initially included visiting the space with Noven to help him feel comfortable with the environment, and eventually turned into spending a few hours on his own at the Country House – a significant milestone for Ian and his family!
As Ian gained independence and confidence, Rhylie and her team were also able to support him to get back into weekly pottery classes at Rocky Bay's Studio, which has become a fantastic way for Ian to express his creativity.
According to Noven, Ian also has a love for playing the drums, singing and dancing, and has slowly started planning his own activities, which has had such a positive impact.
"Ian is getting better at planning ahead. He positively talks about the Country House and plans his afternoon teas," says Noven.
"He is making his own plans which is positive, as he doesn't do it at home".
The time for Ian's fist overnight stay at the Country House is fast approaching!
"We plan to continue to work closely with Ian and his family on his transition into respite," says Rhylie. "We have Ian's first stay planned for the end of June!"
As well as providing a fulfilling experience for Ian, his stay will also provide a well-deserved break for Noven.
Reflecting on their journey so far, Noven's advice for parents of children with disability who are considering respite care is to start respite at an early age, allowing both parents and children to develop a sense of comfort and familiarity with the transition.
It's been a remarkable journey so far for Ian and his family, one of support, growth and success.
To find out more about stay at the Country House click here.
Click here to discover more about all of our respite options, or call our friendly Customer Engagement team on 6282 1900.

"Ian has already started to plan his afternoons at the Country House. He is making his own plans which is positive, as he doesn't do it at home".