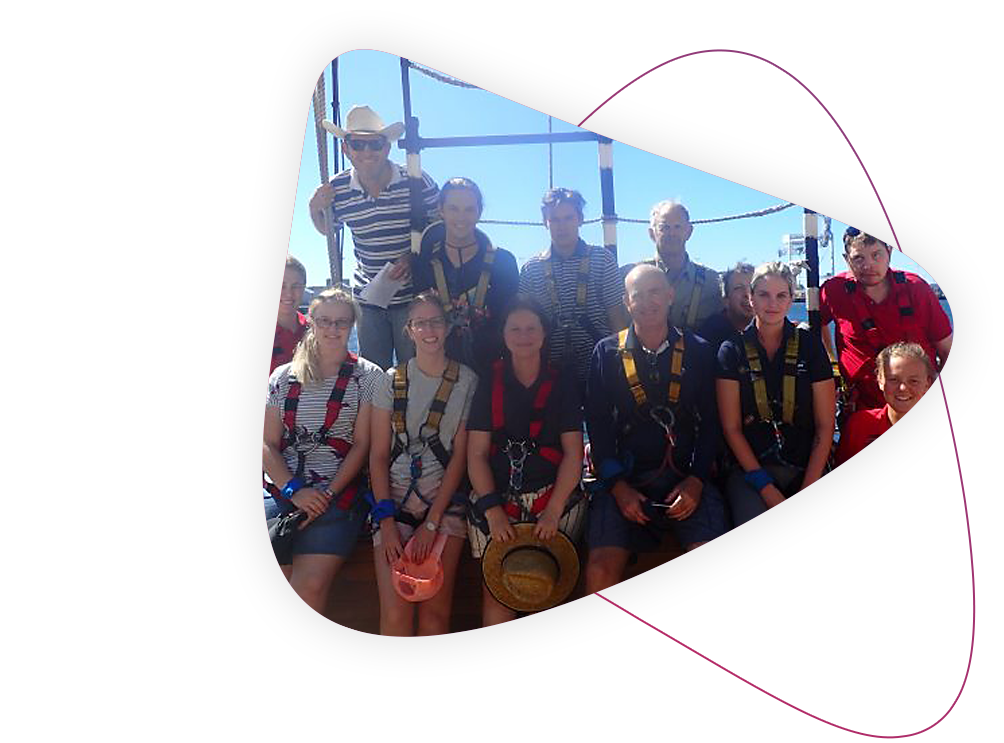 Chloe's high seas adventure
Nineteen year-old Chloe Hutchinson, who is supported by our Community Transition team, has recently returned from an adventure voyage of a lifetime on the STS Leeuwin II that only a select few young people have the opportunity to experience.
Chloe was nominated by Rocky Bay and funded by Rocky Bay's Wishing Tree as a participant for the Leeuwin Ocean Adventure personal development program due to the incredible progress she has made since joining Rocky Bay in 2017.
Leeuwin's Ultimate Challenge Voyage gives young people living with a disability the opportunity to sail the STS Leeuwin II tall ship in a safe and supportive environment, to work as a team with fellow participants to run the ship and learn new skills.
The return voyage from Fremantle saw 15 crew and 40 young participants on board. The ship mates were responsible for various duties on their voyage, including a night watch – where small groups kept watching over the ship at all times in four-hour shifts – assisting with cooking prep and cleaning, and taking part in team bonding exercises.
Chloe said the highlight of her voyage was climbing the 33 metre mast of the tall ship, and being able to steer the ship herself from Fremantle to Rottnest Island. Chloe's group Watch Leaders, Elsie and Jess, were on hand to support Chloe and her team on the voyage and always offered Chloe some much appreciated personal support.
"They took my mind off that worry of not being at home," she said.
An inspirational speaker in the making, Chloe made an incredible impact at Rocky Bay's staff training day in early January, presenting to the large group to bring awareness of Williams syndrome, which affects only 1 in 7,500 to 20,000 people worldwide, including Chloe.
Chloe's Disability Support Worker, Carmel Olsen, has been a big part of her progress, guiding her though her ongoing issues with anxiety by creating techniques for her to try to help overcome anxiety. Carmel has also supported her on various social outings aimed at growing her confidence to present including weekly outings and monthly catch-ups with groups of friends.
"We're much more focused on Chloe's goals and what she wants to achieve and thinking of ways we can do that," says Carmel.
The two years that Chloe has been a Rocky Bay customer and worked on her life skills and personal growth has seen her confidence grow immensely.
"To go back to the young girl Chloe was two years ago and to see what's she's doing now, it is mind blowing," says Community Transition Team Leader, Abby McLennan.
"She's taken accountability for her personal and professional development, and she's putting things in place to move forward and to improve every aspect of her life.
Chloe's goal is to continue presenting her story to audiences, particularly to those who live with a disability, and Rocky Bay are currently looking at opportunities to her reach this goal.
When asked what she would say to someone who lives with a disability who is thinking of taking part in Leeuwin's Ultimate Challenge Voyage, Chloe is very encouraging.
"Definitely give it a try, you don't know that you won't like it until you try. It gives you more confidence in yourself…just do your best and do whatever you can," she said.
Chloe said her confidence in herself has definitely grown since stepping of the STS Leeuwin II, and that it was the support of those closest to her that gave her that extra push to take on the challenge.
"I want to thank my friends and family, I couldn't have done this without them and their support. And Rocky Bay's support has been incredible."
To find out how the Community Transition team can help you or your loved one, contact our friendly Customer Engagement team on 6282 1900. Click here to gift a wish to a Rocky Bay customer as part of Rocky Bay's Wishing Tree.

"I want to thank my friends and family, I couldn't have done this without them and their support. And Rocky Bay's support has been incredible."