Does your child have difficulties reading, understanding and using written language?
Does your child have difficulties saying certain sounds or words?
Do they have difficulty making and keeping friendships?
Children living with disability can benefit from extra and specialised support to learn the skills of speech and literacy.
Age

Diagnosis

Aspergers
Attention Deficit (Hyperactive) Disorder
Autism/PDD
Brain Injury (Acquired)
SEE MORE
Deaf/Hearing Impairment
Dementia / Alzheimer's
Developmental Delay (0-8 years only)
Dyslexia
Huntington's Chorea
Minicore Myopathy
Multiple Sclerosis
Muscular Dystrophy
Speech Impairment
Stroke
Williams Syndrome
SEE LESS
Rocky Bay's speech clinics provide 1:1 assistance to children living with disability who want to improve their speech and literacy skills. Communication is such an important part of an independent life, and no matter what your ability, we can help you make progress.
Speech Clinics can provide young students with Autism Spectrum Disorder and other learning disabilities to go beyond reading and spelling at the single word level to understanding stories and even creating their own.
High school students can learn to plan and use cognitive skills to organise ideas on paper and understand complex texts.
Children with speaking difficulties can learn the mechanics of speech and learn the correct movements to produce the desired sound.
Program Format
There are three Rocky Bay Speech Clinics and each clinic is specially designed to support language and communication challenges.
Typically, clinics involve two assessment sessions, 5-10 therapy sessions, and a handover to your primary therapist or a carer to continue at home. Clinics are conducted in person at Rocky Bay's Patricia Kailis Centre, Cockburn Central, or by teletherapy*.
Language, Literacy and Learning (LLL) is ideal for children working to improve language and literacy skills. Developing an understanding of perspectives, non-literal language and creative writing is linked to improved social skills.
Young children can learn the relationships between sounds, letters and words
School aged children can learn how to interpret stories novels and reports, and how to articulate their knowledge in writing
Young adults can learn to be more independent in the community, for example conversing using text messages and understanding menus
People of all ages with autism spectrum disorder (ASD), dyslexia or dysgraphia.
Build on your social skills and better participate in your community by improving:
Social cognition, your awareness of others' thoughts and feelings, awareness of other's plans and intentions
Skills such as having conversations, building friendships and relationships
Working in groups of people and communicating effectively
Social problem solving when things 'don't go to plan'
Building imaginative play skills and language based play
Learn strategies to cope with social anxiety
Managing emotions and behaviour when around others
Knowing how to join in with groups of people and conversations. Knowing what to say and what to do with your face and body when talking to others
Managing academic work that relies on social understanding (e.g. writing an essay about characters in a novel).
Social Skills is available for people of all ages and abilities, and is especially beneficial for people with ASD.
Clear Speech addresses the mechanics of speech and helps children and adults say sounds, words and sentences clearly. If you have problems sounding out certain words, saying longer words, or have unusual movements of the jaw, lips and tongue, Clear Speech could be for you.
If appropriate, Clear Speech Clinic can include PROMPT therapy. PROMPT stands for Prompts Restructuring Oral Muscular Phonetic Targets, and is a multidimensional approach to improving speech by working on the mechanics of the jaw, lips and tongue to move correctly to form words. PROMPT also considers the social, emotional, environmental and desired behavioural outcomes of the person.
PROMPT can help improve:
Language formulation
Syntax
Motor control or planning
Phonological or "rule based" learning disorders
Auditory processing and production disorders
General cognitive or global delays.
We value that everybody is different, so please contact our Customer Engagement Team on (08) 6282 1900 or through the contact form below.
*Some assessments will require in person sessions and are not available via teletherapy. Contact Rocky Bay for more information.


You can access our services if you have an NDIS plan, Disability Services Commission funding, Medicare or if you want to fund your own services. We can also support you through the planning process if you do not have a plan already.
Alternatively, you can access Speech Therapy through:
Fee for service, including private health cover
Block and CAEP.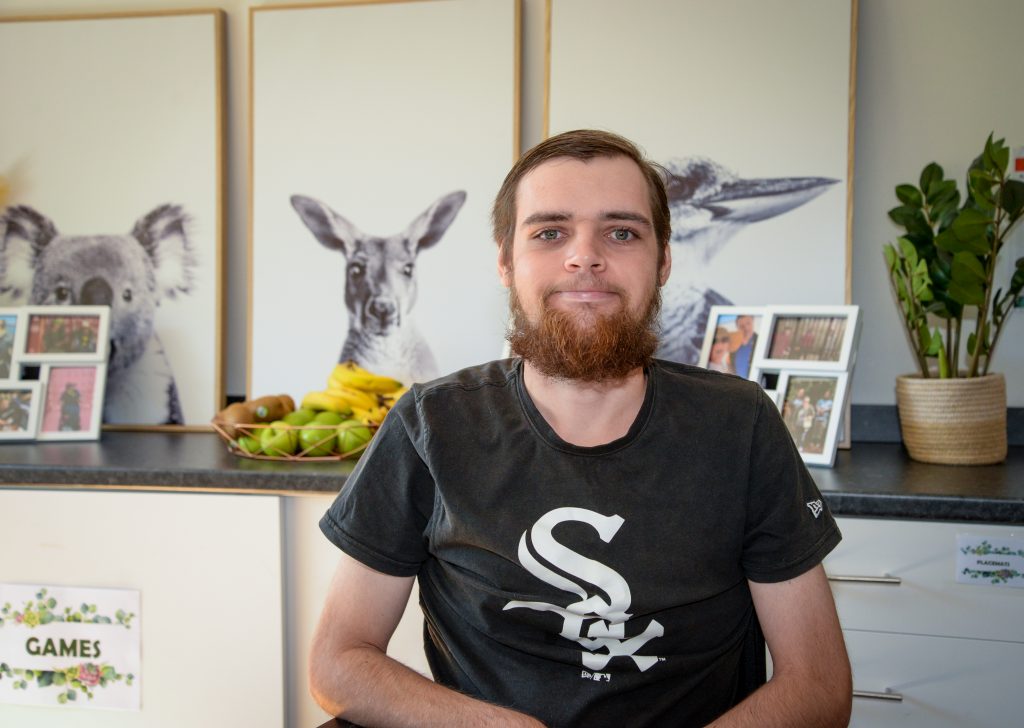 Jarrod
Brain Injury (Acquired)
Brain Tumor
Jarrod Douglas was 20 years-old when he was diagnosed with...