A typical Makaru day did not deter enthusiastic guests from visiting Rocky Bay's Mosman Park hub on Thursday 8 July, to take part in a fun-filled day of NAIDOC Week celebrations.
This was Rocky Bay's second event held to recognise this significant week.
A Welcome to Country and smoking ceremony was led by Noongar Elder, Ms Robyn Collard, and her nephew Izayah Rioli.
Guests were invited to take part in a range of activities throughout the afternoon, including art activities for all abilities, and an interactive station were guests could explore the sights and smells of the bush. There was also a native Australian food station, where guests were able to enjoy tastes of lemon myrtle tea, Kakadu plum, Rosella flowers, Davidson Plum, and damper.
Ms Collard captivated guests with an educational Noongar language workshop, and a brief history of the Noongar culture and Whadjuk region.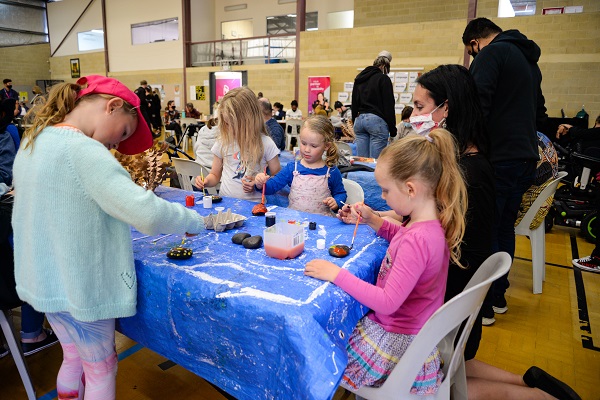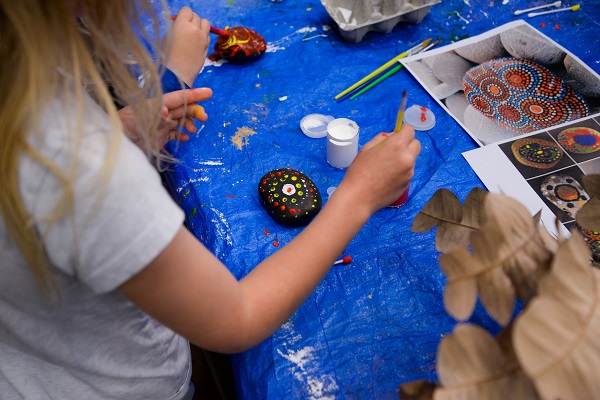 Chair of Rocky Bay's Reconciliation Action Plan (RAP) Committee and General Manager Clinical Services, Michelle Dillon, said the committee was thankful that the celebrations could proceed as planned after the easing of the COVID-19 restrictions in Perth.
"It is wonderful that we are able to celebrate the history, culture and achievements of Aboriginal and Torres Strait Islander peoples at our hub today, and welcome so many guests," Michelle said.
"NAIDOC week is such a great opportunity to educate ourselves on the history of our First Nation's People. Rocky Bay is on a journey towards learning more about Aboriginal and Torres Strait Islander culture, and events such as this give customers, staff and the local community the opportunity to reflect and learn."
Rocky Bay launched its Innovate RAP at the organisations inaugural NAIDOC Week event in 2020, which will see Rocky Bay introduce more personalised and creative actions that seek to promote reconciliation.