Rocky Bay's Mandurah hub was a hive of activity on Thursday 8 October, with a visit from the Governor of Western Australia and Rocky Bay Patron, the Honourable Kim Beazley AC, and Mayor Rhys Williams.
They were joined by Rocky Bay Chairperson, Susan Male and CEO, Michael Tait, Rocky Bay staff and customers, at a special event showcasing the organisation's community and health services.
The Governor and Mayor Williams had the opportunity to explore and learn about the innovative technology used by therapists to support customers in their therapy and rehabilitation journey, as well as the many community groups and programs offered.
Guests were treated to a demonstration of the NeuroNode Trilogy, a device that combines eye gaze technology, touch control and electromyography (EMG) that allows an individual to communicate, and Milo, a humanoid robot designed to support children living with autism spectrum disorder with their social and behavioural skills.
Mayor Williams said the NeuroNode technology "is so empowering" for Rocky Bay customers in their rehab journey.
The Functional Electrical Stimulation (FES) Bike, which is used in neurological rehabilitation, was also demonstrated to guests. It was first launched at the Mandurah hub in 2019 and purchased with over $53,000 raised through generous community and corporate donations.
"It's amazing what Rocky Bay is doing with technology", said the Governor.
Ms Male explained why the FES Bike is such an important piece of technology for Rocky Bay customers.
"Having the FES Bike in Mandurah has allowed our surrounding customers to eliminate long journeys to Rocky Bay hubs in the north for rehabilitation, and frees up their time to be able to participate in other activities," Ms Male said.
"We are privileged to be able to offer this innovative therapy to locals and those from the wider community."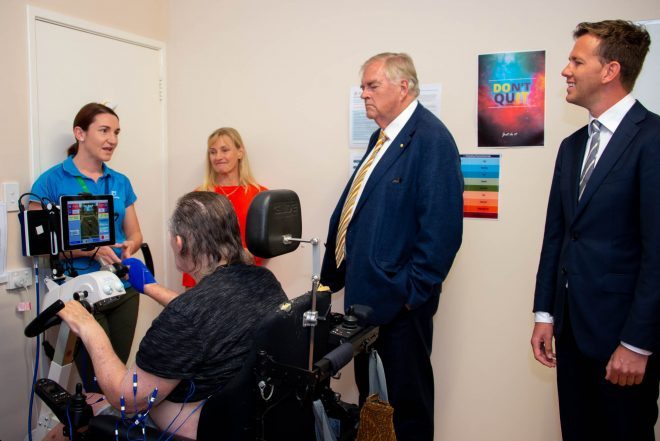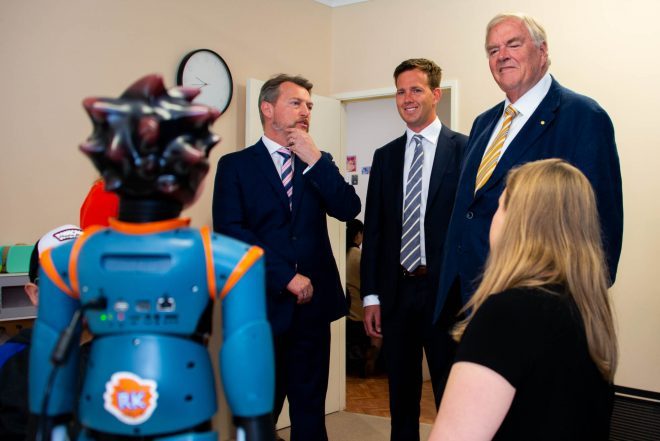 Milo demonstration
Meeting with customers participating in the Community art group, a special moment was shared between the Governor and Maria Bassano, a Rocky Bay customer of 22 years, who he chatted with about her much adored garden and the artwork she was creating.
The Governor presented Maria with a special keepsake coin in a black velvet pouch embossed with the Queen's crest, to Maria's absolute delight, explaining that it was a gift from the Queen, of whom he is a representative.
The Governor and Mayor Williams also had the opportunity to watch a physiotherapy session with a customer, visit Mandurah's Sensory Room, designed to increase sensory stimulation for customers with complex needs, and inspect the Rocky Bay Equipment mobile van, which specialises in equipment repairs and maintenance.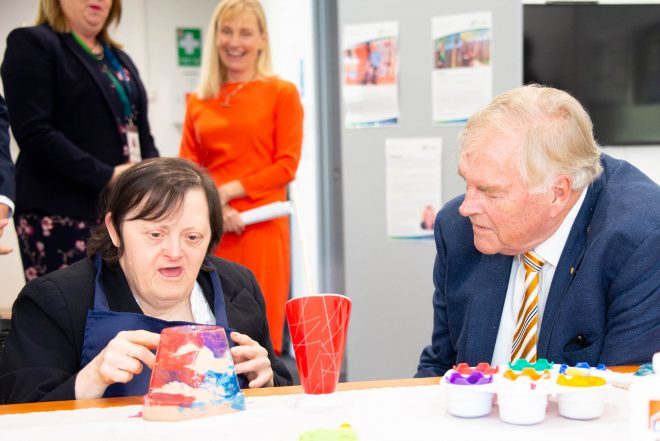 To find out more about Rocky Bay's therapy and community services in Mandurah, call our friendly Customer Engagement Team on 6282 1900.