Lesley, a Rocky Bay customer of nearly four years, has been able to continue her much loved hobby of riding her horse Crystal, thanks to some innovative thinking and funding from Rocky Bay's Wishing Tree for a custom-built sulky.
Lesley lives with fibromyalgia, a condition which causes severe muscle pain and stiffness.
Riding is a passion for Lesley, who has been an avid equestrian for most of her life, but due to her condition deteriorating she found it difficult to safely mount and dismount her horse – her riding companion for the past six years – which has been devastating.
In 2014, Lesley had to retire after a workplace fall exacerbated existing back pain that had been affecting her for over 20 years. Since then, her balance and mobility started to slowly decline, and her muscle pain increased. On top of this, Lesley has epilepsy and was diagnosed with diabetes in 2018.
"Depression hit me hard when I retired, with the realisation that I couldn't do everything I had been doing," Lesley said.
"I kept trying to horse ride, but with one of my legs going numb and problems with balance, I was forced to accept that it was no longer safe for me to do so."
Rocky Bay's Allied Health Team Leader, Chris Hawkins, made a wish on Lesley's behalf to The Wishing Tree for a sulky to be made for Crystal, so Lesley could continue her passion.
"Horse riding is one of the few things that brings Lesley joy," Chris said.
"The level and intensity of pain Lesley experiences changes; her day-to-day life can be a struggle, yet she always smiles and tries to make the most of things", said Chris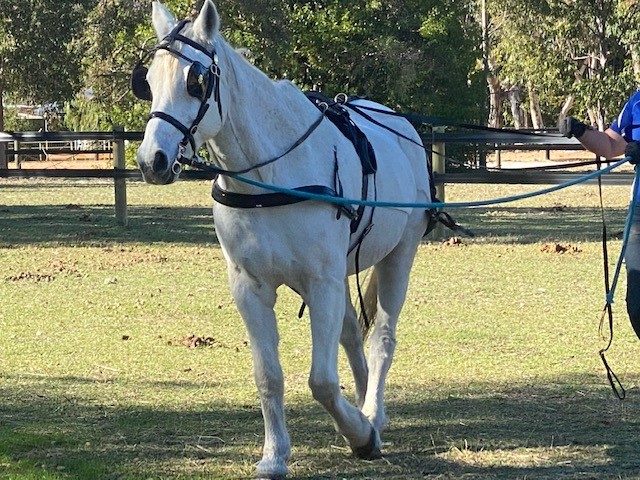 The Wishing Tree arranged for talented craftsman, Sebastian Eder, to custom build a sulky, so that Lesley and Crystal could continue their rides together.
Sebastian, who is based in Chittering, learnt his craft of restoring old carriages and sulkies whilst living in Germany, and now works on restoration projects as a hobby. He built the sulky for Lesley, his second ever project of this type, within five weeks.
"By having the sulky, it allows Lesley to interact with Crystal. Lesley previously participated in horse riding shows, but could no longer do this due to her mobility changes", Chris said.
Lesley is now working with a horse trainer who is retraining Crystal to be able to handle the sulky, so that Lesley can ride her safely.
"This wish is about giving something back to Lesley and giving her joy. Without this wish having been granted, Lesley would potentially have had to give up Crystal and this would have been devastating for her", Chris said.
Rocky Bay's Wishing Tree grants wishes for customers when no other funding source is available, and is funded entirely through community donations and fundraising.
To donate to Rocky Bay, or to find out more about our therapy services, call our friendly team on 6282 1900.