Rocky Bay and the Carcione Foundation joined forces to bring safe, reliable and accessible transport to Warnbro teen, Tamati Ngamoki-Stevens, and his family.
The Ngamoki-Stevens family were presented with a new, accessible van at Rocky Bay's Cockburn Central hub recently, which was purchased by the Carcione Foundation and modified with funding from the National Disability Insurance Scheme (NDIS).
Tamati, a 15-year-old boy who lives with cerebral palsy, severe rigidity and postural distortions, is non-verbal and has very limited sight. He has intensive care needs that require ongoing appointments at both Perth Children's Hospital and Rocky Bay, but transport has long been a challenge for the family.
Rocky Bay Occupational Therapist, Erica Tang, said Tamati's specialist modified stroller, with customised contoured seating, does not fit the standard van and hoist combination available in Western Australia.
"Tamati's postual limitations means he is unable to tolerate typical seating positioning and he requires a high degree of recline which makes his overall footprint longer than most wheelchairs," Erica said.
"Morever, Tamati's legs also turn outwards from the knees, so not only is his chair longer than most, but it is much wider to accommodate for the way his legs splay."
With no other option available, the family had been using a borrowed van that is ageing, unreliable and too small for Tamati to safely and comfortably access.
An offer by the Carcione Foundation to purchase a van large enough to accommodate Tamati paved the way for an application to be made to the NDIS to convert the Mercedes Benz Sprinter into a safe and accessible wheelchair van. This ensures that the family will not have to worry about Tamati outgrowing the hoist within the next few years.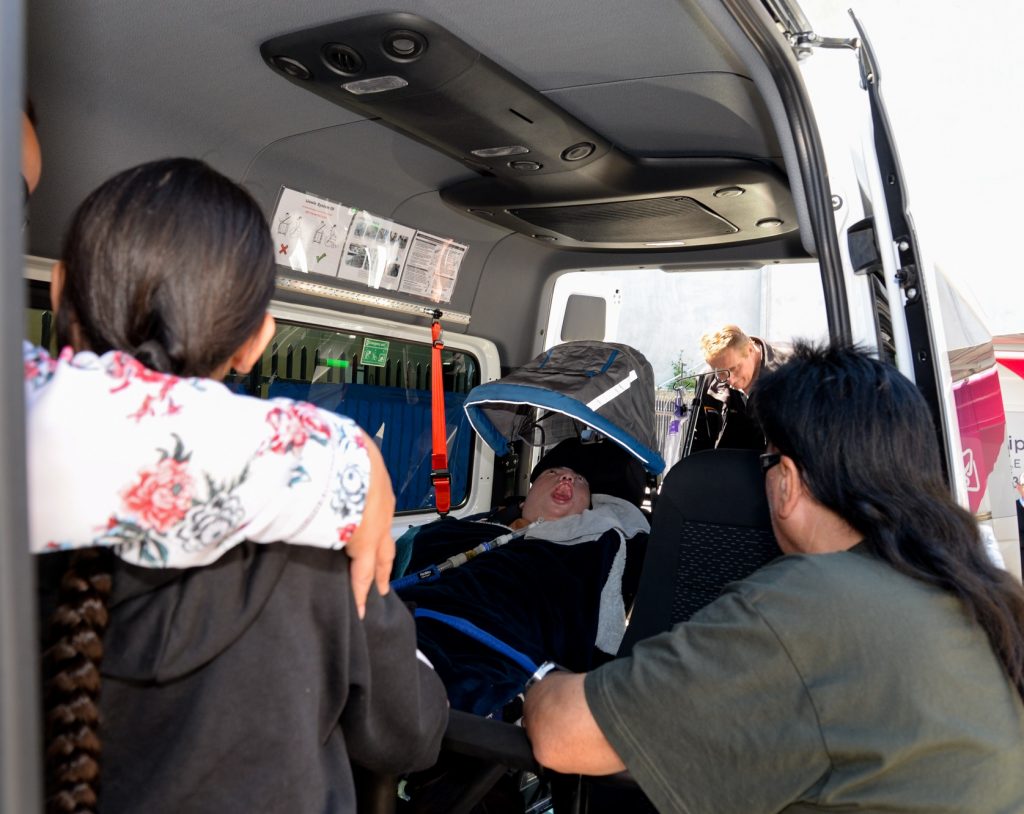 Rocky Bay Chief Executive Officer, Michael Tait, said the presentation of the van to the Ngamoki-Stevens family was testament to what could be achieved when organisations came together to work in partership.
"The generousity of the Carcione family opened the door for Rocky Bay to work with the NDIS on the specialist modifications that would finally provide safe and appropriate transport for Tamati," Michael said.
"Tamati's needs required some out of the box thinking, and we have been able to bring a new type of much larger hoist to Western Australia.
"There are very few vans on the market that could accommodate such a large hoist, and the Mercedez Benz Sprinter fit the requirements to a tee."
The hoist is the only one of its size on the market, and had to be brought in from the United States. It is the first of its kind to be fitted in a vehicle in WA.
Tamati's mum, Tania Ngamoki-Stevens, said the new van and hoist would give her peace of mind knowing that Tamati is safe when transported to and from essential medical appointments.
"It was an emotional moment when we were told that Tamati's nomination had been selected to receive a van from a generous donor," Tania said.
"Thank you doesn't seem enough for what you have done for our son, and we are extremely overwhelmed by your kindness and willingness to help Tamati during his time of need."
Tamati lives with his parents Cecil and Tania, brother, twin sisters and a foster brother who lives with Down syndrome. More than being able to attend medical appoinments, a new modified van means the Ngamoki-Stevens' can finally include the whole family in outings together.
"We are a family unit and should be able to do things together as a family," Tania said.
"And now that is possible. Thank you very very much to Vince and the Carcione Foundation."