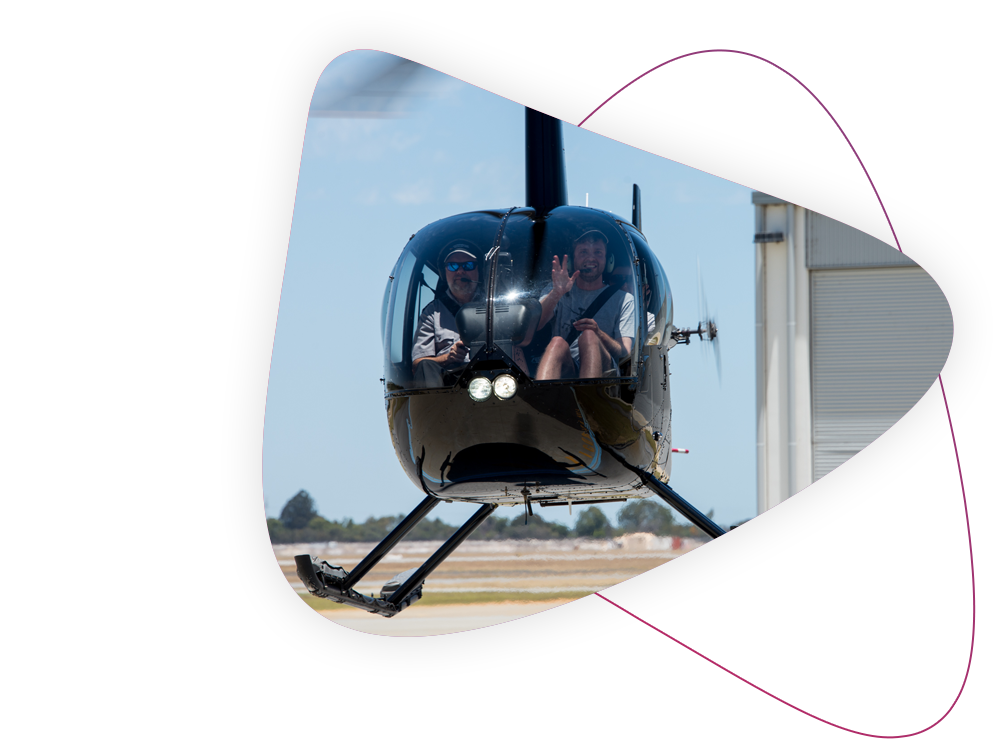 Sean Takes to the Skies
Waiting patiently at Jandakot Airport while his first-ever scenic helicopter flight around Perth was being prepped for take-off, Sean Collins' wish was about to come true – all thanks to Rocky Bay's Wishing Tree.
An avid aviation enthusiast, 27-year-old Sean, who lives with autism and an intellectual disability, has been a customer of Rocky Bay since 2015, staying twice a week at the respite Guest House in Rockingham – The Beach House – to experience life away from the family home and move closer towards his goal of one day living independently.
The Beach House's Lead Support Worker, Heather Harrower, said Sean's breaks away from home provide much more than just respite.
"Sean's use of our Guest House for respite allows staff to help him gain his independence and life skills and reduce his reliance on his mum," Heather said.
It was Sean's passion for aviation, and helicopters in particular, that prompted Heather to submit a wish to Rocky Bay's Wishing Tree on Sean's behalf – an initiative that was started to help make customers' dreams come true.
"Sean's favourite outing when staying at The Beach House is going to Jandakot Airport to watch the planes or to Rotorvation and Rous Head in Fremantle to check out the helicopters. He loves to talk about them and take staff to Rotorvation at every chance he can get!" explained Heather.
His first helicopter experience was everything Sean could have hoped for, beaming as he disembarked the helicopter and taking this major change in routine in his stride.
Heather explained that Sean's behaviours had come a long way since his regular stays at The Beach House began nearly four years ago.
"When I first met Sean, he found it difficult to initiate conversation and complete simple tasks without verbal prompting. Now, Sean not only now engages in conversation, but he calls people by their name, makes his own drinks and has learnt to manage change on a more appropriate level," she said.
"Because of the ever-changing nature of the Guest Houses, Sean is able to adapt more readily to change and it has provided him with the opportunity to enjoy new experiences."
Sean's mum, Jo Collins, believes Sean's progress is not only due to the positive impact that living independently has had on his life, but also because of the caring and supportive attitude of The Beach House staff.
"Rocky Bay's The Beach House has been wonderful for Sean," said Jo.
"It's always welcoming, clean, and just has a beautiful feel about it.
"We're very happy – it's lovely for us to know that Sean can go somewhere that he loves and has a great time. We can walk away knowing that his time there is going to be really positive.
"When Sean comes back after a couple of days away, he's more energised and ready to face the week ahead with whatever challenges might come our way.
"If I have any problems or issues with Sean, I know that as a team Rocky Bay would help me find solutions and we would work together so that whatever we decide to do would be put in place across the board, and I think that's really important."
"The Beach House staff genuinely care about Sean and that means a lot to me as his mum."
Rocky Bay has respite accommodation in Gosnells, Beeliar and Rockingham. Whether you're looking for some R&R, getting ready to transition into long-term supported accommodation, or in need of emergency support, our Guest Houses are there for you or your loved one.

"When Sean comes back after a couple of days away, he's more energised and ready to face the week ahead with whatever challenges might come our way. The Beach House staff genuinely care about Sean and that means a lot to me as his mum."