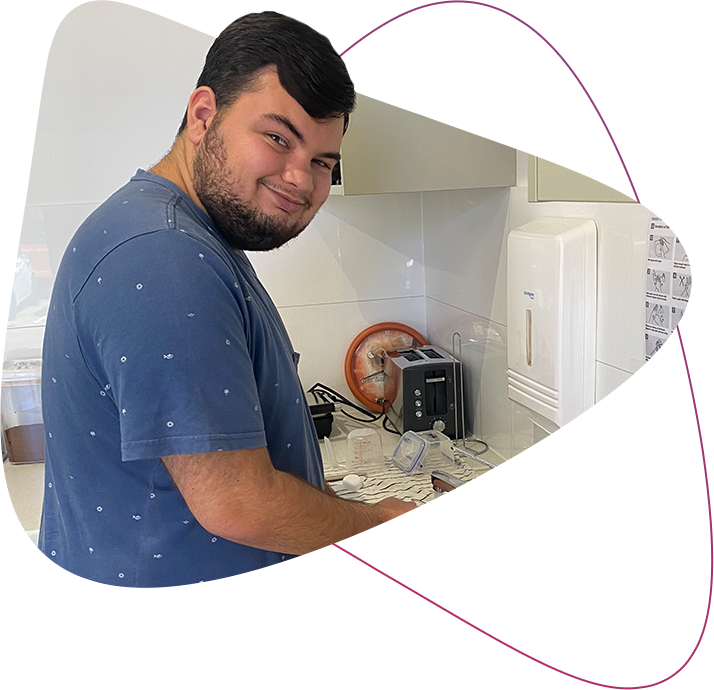 Rhys Nazareth is a fun loving 21-year-old with a sharp sense of humour and a knack for solving word puzzles. He has many other loves including painting, cooking, watching Marvel movies and barracking for his beloved West Coast Eagles.
In addition to his personal pursuits, Rhys has also recently partnered with Rocky Bay in Joondalup where he receives occupational therapy and speech pathology at the new state-of-the-art hub to support his diagnosis of autism, as well as attending Community's Art Group.
Community Team Leader at the Joondalup hub, Abby McLennan, explains that Rhys has multiple goals when it comes to the Community services he receives.
"Rhys wants to get fit, so we are looking at linking Rhys to a gym near his home in Dianella. The plan is that he will do one day a week in Joondalup, and one day a week in Dianella," says Abby.
"It's important that Rhys can build relationships and feel safe in his local community and make friends near his home."
Rhys has also partnered with Rocky Bay's Stages Toward Employment Pathways (S.T.E.P.) team to help ready himself for the workforce. Rhys's S.T.E.P. Mentor, Yasmeen Casson, explains that Rhys has found a fun and supportive community in Joondalup.
"Rhys loves visiting the Joondalup hub. There have been times I would give him multiple location options and he would always pick Joondalup. Sometimes when he gets in the car the first thing he'll say is "Can we go to Joondalup?"
Rocky Bay's S.T.E.P. program uses an individualised approach to transition young people aged 16-23 from school to employment, by building the personal skills needed to start their employment journey.
The program teaches individuals how to build confidence, self-esteem, interpersonal and practical skills.
"As Rhys is very new to our program, we are currently in the Discovery Phase," says Yasmeen.
"This involves exploring his local community and networks, and is guided by a framework of various discovery activities and challenges. The Discovery Phase part of our program involves assessing his skills, his likes and dislikes, and helps to build his capacity and stamina.
"Once we have a good baseline to start with, we can start overlaying services with workplace skills and move into Vocational Assessment."
Rhys and Yasmeen have set specific goals for Rhys to reach in the program, and will continue to do so as he achieves each goal.
"Rhys's current S.T.E.P. goals include learning to use public transport and using his laptop. Rhys has already mapped the closest bus stop to his home," says Yasmeen.
"Rhys is continuing to make excellent progress and we look forward to sharing more updates on his S.T.E.P development!"
To find out about S.T.E.P. services at our Joondaup hub, click here or call our friendly Customer Engagement team on 6282 1900.

Rhys loves visiting Joondalup hub. There have been times I would give him multiple location options and he would always pick Joondalup.
- S.T.E.P. Mentor, Yasmeen Casson