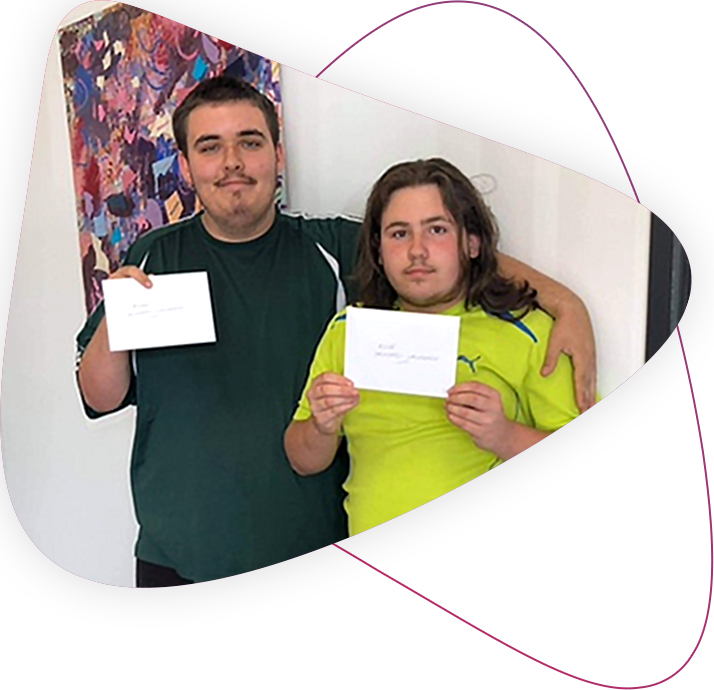 A Fresh Start To The Year For Flourishing Brothers
The New Year has started with a bang for brothers Ryan and Klive Saunders-Lawrence, thanks to their hard work and some assistance from Rocky Bay's Wishing Tree.
Seventeen-year-old Ryan and 15-year-old Klive, who hail from Waikiki and receive Community and Therapy services at Rocky Bay's Rockingham hub, each received a $1,000 gift voucher to commend the hard work they have done to build their independence, social and communication skills.
It will also greatly assist them and their family to be able to purchase clothing and school supplies to help start the New Year on the right foot.
Rocky Bay Social Worker, Caitlin Iles, Community Team Leader, Stevie Thomas, and Speech Pathologist, Amy Muir, who work collaboratively with the boys, submitted the wish for Ryan and Klive.
"This gift will allow the boys to be able to go shopping to choose their own clothing, shoes, school bags and supplies that they really need," Caitlin, Stevie and Amy said in their Wishing Tree application.
"They will not only benefit from this Wishing Tree gift in the New Year, but it will continue to give them a sense of pride, happiness and joy for the rest of the year, as they deserve.
"The boys have never let difficult circumstances dampen their spirits, and they are always so happy, friendly, positive and engaged when attending therapy and community activities."
Caitlin, Stevie and Amy have been working with the brothers since 2018, who joined Rocky Bay to help build on their communication, behavioural and social skills.
One of the ways they have been able to achieve this is by attending a youth social group run by Rocky Bay's Community team between Rockingham and Mandurah.
"The group runs every Friday night of the school term," Stevie said.
"There is typically one week based at Mandurah hub where participants take part in cooking, things like pizza, nachos and cookies, and then they take part a fun activity. Another week they are out in the community – attending the pool, trampolining, or enjoying a BBQ at the foreshore."
Since Ryan and Klive partnered with Rocky Bay and joined the social group, they have broadened their social network, developed strong friendships and have built on their confidence and motivation to attend school and community groups together, and autonomously.
Their new found independence, and confidence to build new friendships, has had a positive impact on both them and their family.
Ryan and Klive's mum, Anita, said the boys have come out of their shells since joining Rocky Bay and she couldn't be happier, thanking the Rocky Bay team for all their support.
"You all just keep doing what you do, because it's wonderful and we are so thankful," Anita said.
The Wishing Tree is funded entirely by donations and allow Rocky Bay to grant wishes for special experiences or equipment for customers when no other funding source is available to them. Click here to find out more about gifting a wish.
If you'd like to know more about Rocky Bay's Therapy or Community services, call our friendly Customer Engagement team on 6282 1900.

You all just keep doing what you do, because it's wonderful and we are so thankful.
- Anita, Ryan & Klive's mum