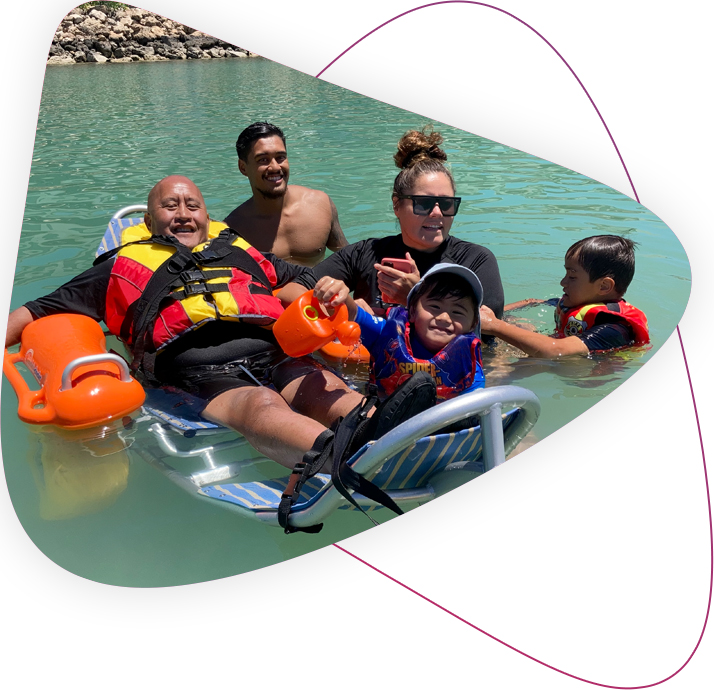 Moana Marsh's life was changed in 2015, when at the age of 48, he sustained a spinal cord injury following surgery to remove an ependymal tumour, which resulted in quadriplegia.
In 2018, Moana partnered with Rocky Bay and started accessing occupational therapy and physiotherapy in Cockburn.
Moana, who lives in the Cockburn area with his wife and five-year-old son, values spending time with family, his health, independence, being outdoors and participating in his community.
One of his great passions is spending time at the beach, and with his therapy goals now in hand, Moana decided to reach for another. In 2020, it became Moana's goal to be able to enjoy swimming at beach again, a place he wasn't able to access since sustaining his spinal cord injury.
"Moana values spending time at the beach with his family," said Rocky Bay Physiotherapist, Monique Miller.
"The beach holds a special significance for Moana as not only is it one of his favourite places to be, but his name actually translates to 'Ocean' in his native Maori."
Monique started working with Moana to research beach wheelchairs he could use to achieve his goal, and began the process of a risk assessment to evaluate any potential risks involved in Moana using mobility equipment to access the beach.
However, Moana hit a temporary road block in late 2020 when a hospital admission added another layer of complexity to the risk assessment that was in progress.
"This just reinforced how important this goal was for Moana, and we were driven to get him safely back on the beach and spending time with his family for the rest of summer," Monique said.
Once the risk assessment was eventually completed, Monique set about organising the hire of a Mobi-Chair Floating Beach Wheelchair for Moana at Ngarkal Beach through the City of Cockburn.
The floating beach wheelchair allows users to transition from the sand to the ocean with ease, and has large armrests which become stable floatation devices when it enters the water.
"(The beach wheelchair) allowed Moana not only access the soft sand at the beach, but he was also able to enter the water, as it floats," Monique said.
"Moana's family were able to engage and play with him, and Moana loved being at the beach with his family. He has since returned to the beach eight times throughout the summer."
Thanks to the amazing success Moana had with his beach wheelchair experience, Monique decided to submit an NDIS application on Moana's behalf, requesting he receive his very own beach wheelchair for private use.
"(The application) was approved, so Moana has now received his own beach wheelchair, just in time to use this summer," Monique said.
"He now has the freedom to take the wheelchair to any beach that is accessible, including whilst he is on holidays."
To find out more about Rocky Bay's range of therapy services, click here or call our Customer Engagement team on 08 6282 1900.

He now has the freedom to take the wheelchair to any beach that is accessible, including whilst he is on holidays.
- Monique Miller - Rocky Bay Physiotherapist