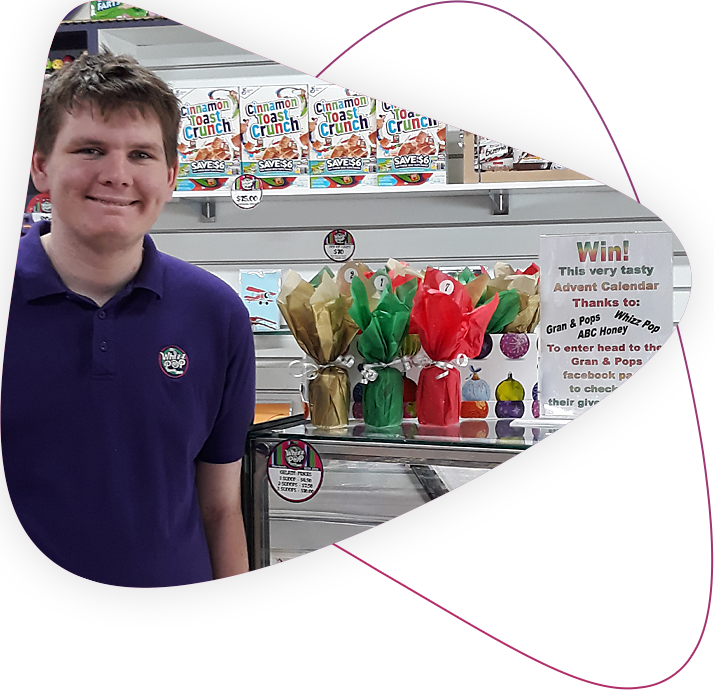 Max Lockyer is embarking on an exciting time in his life. In his last year of school at Coodanup College, Max recently turned 18 and is preparing to take his learner's permit test, one of his a major goals.
He is also now part of the workforce, having obtained a paid position from what started as a volunteer role, working independently in a customer service role that he loves.
Max, who lives with Autism, has been receiving health and community services at Rocky Bay since 2011. Working hard with his speech pathologist, occupational therapist and the Stages Toward Employment Pathways (S.T.E.P) team, Max has absolutely flourished when it comes to social skills and gaining independence.
Rocky Bay Occupational Therapist, Megan Booyse, has been working with Max toward his goal of a learner's permit through the Keys4Life program by supporting him to develop the skills he needs to be safe on the road, having previously conquered executive functioning skills and money management.
Working with his Advanced Clinician Speech Pathologist, Danielle Garside, Max is building up his social skills when out in the community.
"I have been supporting Max on his social skills, particularly around having conversations, showing an interest in others, asking social questions, and building meaningful friendships," Danielle said.
"This is particularly important as Max prepares for employment after schooling. We have built up his understanding around the theory behind social skills and why they're important. We have targeted these specifically using role play activities, which help to prepare Max for meeting new people…and communicating effectively with his employer."
At the end of 2020, Max was receiving support from Rocky Bay's S.T.E.P program, which uses an individualised approach to transition people aged 16-23 years who live with a disability from school to employment, and supports them to work on the skills they need to find the right career.
At the time, Max was volunteering in a local candy shop on the Mandurah foreshore. Working with the S.T.E.P team, Max had some goals he wanted to fulfil in his workplace, including increasing his stamina from sitting doing his work to standing and being more mobile in the workplace; gaining product knowledge by creating a product booklet, and being a productive team member by showing initiative in undertaking cleaning tasks.
Max managed to tick off every single goal and Rocky Bay's S.T.E.P team have since transitioned out of his workplace, with Max able to work completely independently. He was since offered a paid position by his employer, ticking off yet another of his goals.
After having achieved so much already at the age of 18, Max isn't done with conquering new goals.
When he graduates from high school this year, Max will work on increasing his social skills, independence and safety when accessing the community by tackling problem solving (such as asking for directions), and will work closely with Danielle to achieve this.
Max will also continue to attend Rocky Bay's Mandurah-based adult social group on Friday evenings, which is designed to encourage socials skills and independence, and where he enjoys spending time with his friends and going out for dinners.
Max's amazing progress also recently saw him enjoy a fun and successful night at his high school prom, attending the event with his good friend, and fellow Rocky Bay customer, Chloe.
"He was so proud of himself for recently attending his school prom," said Danielle.
"On the night he was able to introduce his prom date to friends at school, and thank his driver for taking them to the prom in a Rolls Royce. He really had a wonderful night."

He was so proud of himself for recently attending his school prom…he was able to introduce his prom date to friends at school, and thank his driver for taking them to the prom in a Rolls Royce.
- Advanced Clinician Speech Pathologist, Danielle Garside