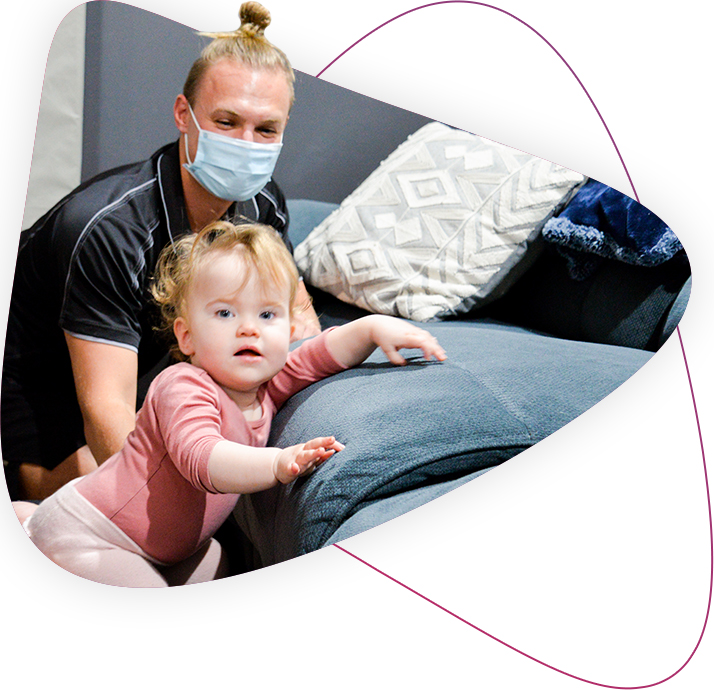 Evelyn Cheater is a happy and engaging 18-month-old who loves playing with her big sister, spending time outdoors, and going on fishing trips with her family. According to her mum, Emily Triplett, Evelyn can be very talkative and loud, and is developing such a bright personality. 
In 2021, when Evelyn was six months old, she received a diagnosis of LAMA2 Muscular Dystrophy – a congenital condition that causes weakness of skeletal muscles.  
The condition presents as delayed milestone development in the early years of a child's life, and the risk of postural changes as they grow. It can limit active movements and contracture formation, which develops when tissues are replaced by inelastic, fiber-like tissues, making it difficult for an individual to stretch and move as expected. 
Evelyn – who lives at home in Eglinton with her mum, Miss Triplett, her dad, Andrew Cheater, and big sister, Kelsey Miller – has received various therapy interventions at home through Rocky Bay's Early Start Intervention Program (ESIP) since October 2021.  
Rocky Bay has been a proud beneficiary of the Telethon 7 Trust for the past two years, and part of the funding received supported the program's launch in January 2021. 
Evelyn's intervention includes occupational therapy for fine motor skills, speech pathology for language development, and physiotherapy for gross motor skills.  
Emily recounts when Evelyn was first diagnosed with LAMA2 Muscular Dystrophy, and the unknown factors that the condition brings with it. 
"We were at our usual child health appointment when Evelyn was six-months-old. They said she seemed floppy, so recommended we go to Child Development Service (CDS) to get her assessed," says Emily.
After some months with CDS, Evelyn was sent to a paediatrician, who referred the family to a neurologist at Perth Children's Hospital (PCH). Within a week, the team at PCH had diagnosed Evelyn with LAMA2 Muscular Dystrophy, and recommended Rocky Bay's ESIP program to support Evelyn's development.  
"When we first found out we were heartbroken, we thought we might not have her for long, that she wouldn't be able to walk and would have heart and spinal issues. We look at her now and it's like she is just delayed with some milestones," says Emily.
When a child is diagnosed with any disability – let alone a rare disease – it can be a stressful and uncertain time for families. Rocky Bay's ESIP is not only a way to give children the best start to life, but it's also a way to support families and ensure they get all the information and support needed after a diagnosis. 
"There's a lot of support out there that you don't even know about until disability touches your life," says Emily.
ESIP is a 12-month research based therapy program for children from 0-5 years of age who have developmental delay, or a diagnosis of a rare disease or a range of risk factors. Using a multidisciplinary approach of intensive therapy and support – including physio, occupational therapy, speech pathology and hydrotherapy – the program supports children to work toward individualised goals in their own home and within a community setting.  
The program also supports parents and carers to build confidence to continue their child's development at home, improving participation in family and community life. The program also helps to build a team of supports and networks, surrounding the family with like-minded people. 
Rocky Bay Physiotherapist and Program Coordinator of Rocky Bay's ESIP, Ty Kowalski, says that Evelyn is making solid gains toward her goals.  
"When Evelyn first started in the program, she couldn't sit by herself. Now she is sitting upright and maintaining her position whilst displacing her weight to reach for items, like toys," says Ty.  
"She is also working toward crawling and getting stronger physically. Her grasping is developing, and she is making more sounds and forming more words." 
Evelyn's team sets new goals for her to reach every six months. After smashing her initial goals, Evelyn's new goals to reach include being able to achieve a crawl position and maintain her weight independently; to work toward expanding her vocabulary to include 45 words; and when it comes to bedtime, will require her parents to lay on the bed to fall asleep fifty percent of the time, otherwise be in her room. 
"The goals we set are really specific to the individual," says Ty.
"They are a component of their function that is a little above where the child is. For Evelyn, it was initially to sit by herself, then it was to go from lying to sitting. Now her physiotherapy goal is to crawl. 
"When she eventually transitions out of the program and into the National Disability Insurance Scheme (NDIS), it carries across and they can add more goals for her to reach." 
Consistency is important when it comes to therapy – particularly with early intervention as participants need to feel comfortable and safe. Rocky Bay's program sees therapists provide intervention in the home, so a child feels comfortable in their environment, and the family are afforded flexibility in appointments. Seeing the same therapists consistently also helps develop a bond between child and therapist, creating excitement around therapy. 
"I honestly wouldn't of expected this much assistance before we started," says Emily.
"Not only have we seen massive progression in Evelyn, but also friendships form between Evelyn and her therapists…When Ty went on holidays for a week, Evelyn was so excited to see him when he walked in for the next session. 
"As a family we understand what requirements need to be met for Evelyn's age and future goals. The team look at all aspects of Evelyn's needs and work together to create an enriched developmental program for her.  
"Not only have they changed her life, but ours as well." 
After experiencing the journey of a diagnosis, and seeking support for her development through various avenues, Emily's advice for other families is to play advocate and ask questions. 
"When we first received Evelyn's diagnosis, we began to research it ourselves. We had lots of questions, so we got a pen and paper and wrote down everything we wanted answered, and that's when we went back into PCH to ask our neurologist those additional questions. 
"There's also an Australian group on Facebook for people with MD and that's how we connected with other families in similar situations." 
Emily says Evelyn has adapted well to her condition without even knowing it. Getting the intervention from such an early age has meant that Evelyn can continue to develop at her own pace and not miss out on enjoying the experiences of day-to-day life with her family.  
"Her neurologist said given her condition, she is in the best position possible. Although we still don't know much about how her condition will progress in future…we are hopeful." 
Evelyn will continue to be set specific goals throughout the program, so that once she transitions to the NDIS she will have had the best start possible. 
"Evelyn doesn't miss out," says Emily. "She goes everywhere with her sister…they love to play and be silly together. We don't want to deprive her of the 'every day'. 

Not only have we seen massive progression in Evelyn, but also friendships form between Evelyn and her therapists…When Ty went on holidays for a week, Evelyn was so excited to see him when he walked in for the next session.
- Emily Triplett, Evelyn's mum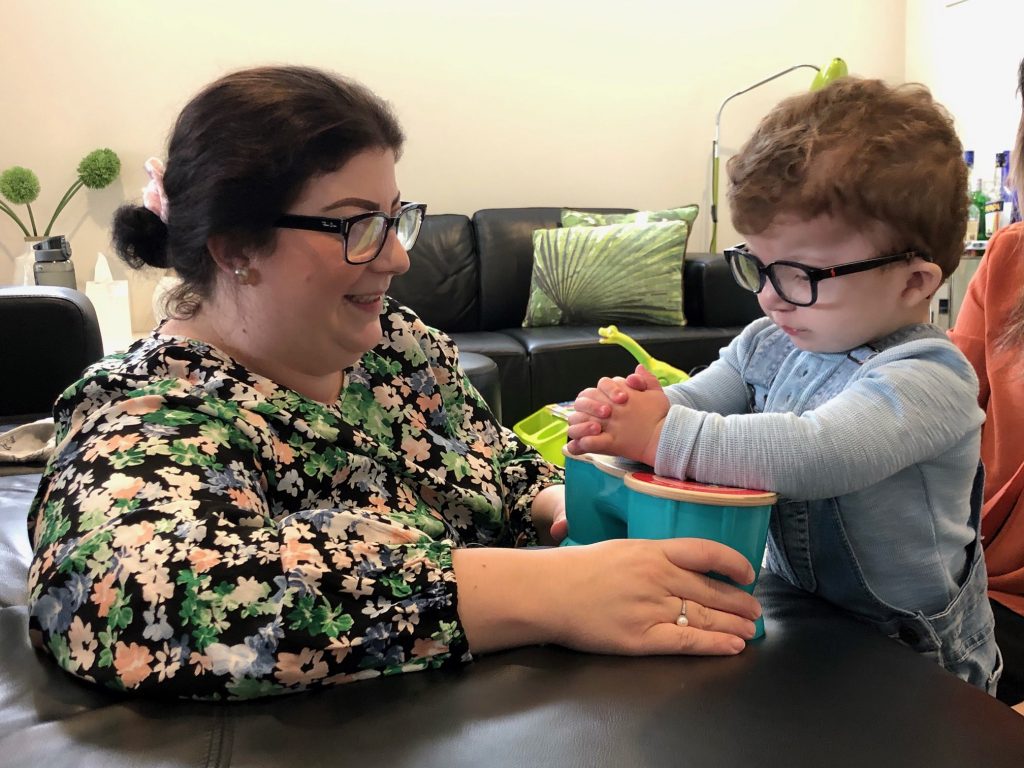 Henry
Developmental Delay (0-8 years only)
Pierre Robin sequence (PRS)
Henry Duca, a bright and happy two-year-old, has had a...