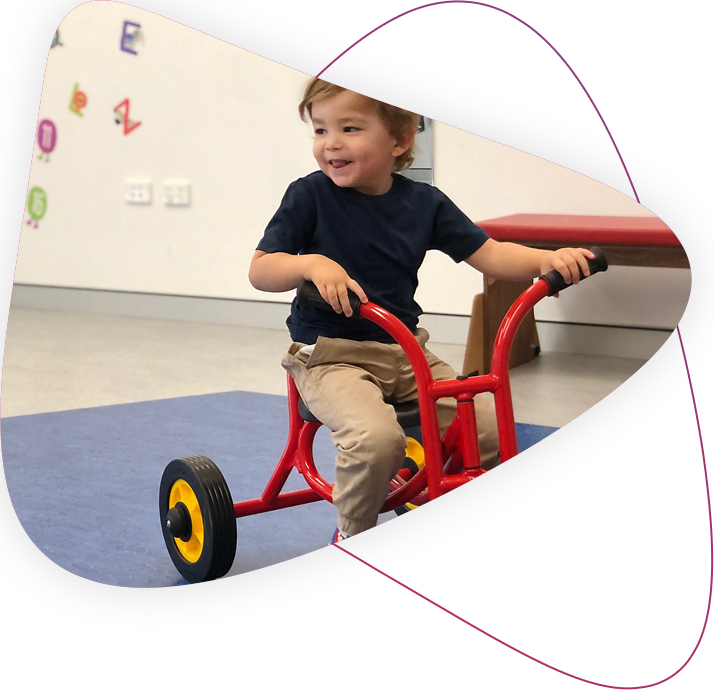 Emilio's new found independence
Three-year-old Emilio Jimenez-Lozano is now able to enjoy precious play time with his older brother, Javier, riding their bikes together, with a little help from Rocky Bay's Wishing Tree.
Emilio, who receives occupational therapy and physiotherapy services at Rocky Bay, was all smiles trying out his new tricycle at the organisation's Cockburn Central hub this week, with his mum, Monica Jimenez, proudly watching on.
The tricycle was gifted by the Wishing Tree, with the wish submitted by Rocky Bay Occupational Therapist, Helena Blackley, to help Emilio to gain independence, confidence, support his gross motor skills, and be able to play with his brother and friends at day care.
For Emilio, who has cerebral palsy which affects his legs and is unable to walk, his new tricycle will help to support his lower limb movement and coordination, as well as helping to build muscle strength.
After seeing that Emilio loved riding the tricycle at day care, and was able to do so independently, including getting on and off the trike, Helena and Monica decided that owning his very own trike at home would be extremely beneficial.
Helena explained that the trike provides an opportunity for Emilio to participate in a form of physical activity that he enjoys, as well as strengthen his lower limbs and challenge his balance.
"Emilio has great joy when riding his trike, he will gain so much not only physically, but emotionally and socially," Helena said.
"This doesn't fully replace Emilio's mobility, but it's going to be helpful in the meantime until we discover a little more about how he will develop."
Monica said that Emilio will get so much use and enjoyment from his new trike, and will now be able to enjoy bike riding with his brother for the first time on their frequent trips to their local parks.
"The trike is amazing. Emilio is always happy when he rides the trike a day care, because he can keep up with the other kids," Monica said.
"I'm really happy with our Rocky Bay services."
The Wishing Tree is funded entirely by donations and allows Rocky Bay to grant wishes for special experiences or equipment for customers when no other funding source is available to them. To find out more about donating to Wishing Tree, and to discover more about our therapy services, call our friendly team on 6282 1900.

I'm really happy with our Rocky Bay services.
- Monica Jimenez - Emilio's mum