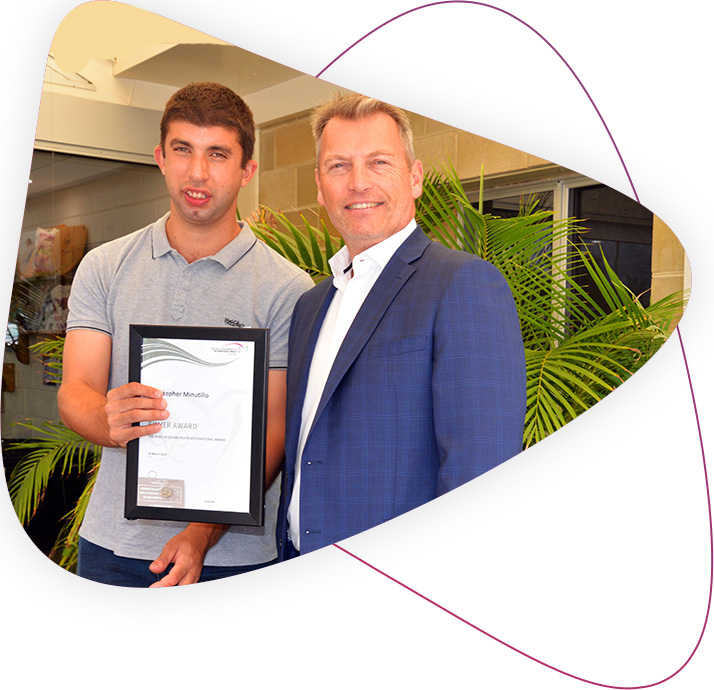 Motivation and a zest for life is inherent in 24-year-old Chris Minutillo, who has just recently earned a Silver Duke of Edinburgh International Award after completing the Leeuwin Ocean Adventure's Ultimate Challenge, with support from Rocky Bay's Wishing Tree.
Chris loves his sports, and excels at soccer in particular. He has played Associated Catholic College soccer and been part of WA's Paralympics side. In 2015 he obtained silver for Australia at the Special Olympic World Games in Los Angeles, and currently has his sights set on the 2022 National Games in Launceston.
A long-time Rocky Bay customer, Chris started his Duke of Edinburgh journey a few years ago. The Duke of Edinburgh (DoE) Award is a structured and fully inclusive youth development program that empowers young people aged 14 to 24 to explore their potential and find their passion and purpose.
To progress throughout the program, participants must complete various stages to obtain a bronze, silver and gold award, including learning a new skill, improving their physical wellbeing, volunteer in their community and experience a team adventure in a new environment.
With a bronze award already achieved, Chris set his sights on obtaining his silver award, even if it meant a delay in obtaining it due to the COVID-19 environment.
In February, Chris set off from Victoria Quay in Fremantle aboard the STS Leeuwin II as a supported crew member, a unique and thrilling five night ocean adventure that would also complete his DoE Silver Award. His place on the voyage was secured by Rocky Bay's Wishing Tree.
"I did lots of different stuff and enjoyed doing new things – pulling ropes to put sails up, cleaning and cooking," Chris says.
He also completed cleaning and galley duties, worked on the bow spirit and furled sails, learnt to tie knots, undertook night watch duties and even took the helm to steer the ship. Chris's proudest moment though was reaching his goal to climb the shrouds of the ship.
"I don't like heights but am very happy I climbed to the platform," Chris says.
"I climbed higher each try and got to the platform on Friday."
Rocky Bay Lead Support Worker, Craig Johnston, who supported Chris throughout the voyage, says that Chris was always willing to join in on any task he was asked to perform, and although he found some of them challenging, he would persist with support from the Watch Leaders and himself.
"Chris also stepped into leadership roles when setting sail, as he would regularly take on the position to sweat the lines and coordinate other participants hauling…He worked really effectively using his physical size and strength to the advantage of each task," Craig says.
Craig explains that Chris was always very aware of the needs of other participants on board, and was always willing to offer his help with tasks.
"Chris's biggest achievement from my point of view was seeing him climb the shrouds to the first platform…He remained keen on building his confidence and managing expectations," Craig says.
"With support from a Watch Leader he managed to climb to and touch the first platform with joy and confidence, and his genuine sense of achievement was very evident.
"There was a clear buzz from Chris as he was greeted and congratulated by people talking about how high he was and that he finally completed the climb!"
In April, Chris received his official Duke of Edinburgh Silver Award certificate, which was presented to him by Rocky Bay CEO, Michael Tait.
Since completing his Silver Award, Chris has been extended an offer of the Gold Award, due to the impact that COVID-19 had on his completing silver. We can't wait to see what is in store for Chris, as he continues his Duke of Edinburgh journey!

There was a clear buzz from Chris as he was greeted and congratulated by people talking about how high he was and that he finally completed the climb!
- Craig Johnston, Lead Support Worker