Being able to see the world through the eyes of others is an important element in supporting and empowering people of all abilities to reach their true potential. Having a lived experience yourself makes for an even more potent impact on the support you can offer.
Paul Barnett is part of a team of Support Coordinators based at Rocky Bay's Geraldton hub who partner with individuals to work towards their goals, help them to get the most out of their NDIS Plan and to navigate the system.
Paul is also a Paralympian and a Paralympic gold and bronze medallist, who is now using his knowledge and vast life experiences to support individuals of all abilities in his local region.
Paul is no stranger to Rocky Bay, having begun his first full-time job in the organisation's Perth based hub as a Support Worker in 2000. He received support from Rocky Bay when he decided to go part-time to follow his Paralympic dream, and then study teaching at university.
"Rocky Bay definitely supported me with my studies and my swimming career," said Paul.
"They supported me to have reduced hours and time off to compete…I had competitions every two or three months where I would travel interstate or overseas. Rocky Bay were supportive of that whole journey."
With backing from Wheelchair Sports WA Association (now known as Rebound WA), Paul was a young teenager when he began swimming at State level events representing Western Australia. It was this exposure that eventually lead to his journey to the 2000 Sydney Paralympics at the age of 20.
Paul won a gold medal in the Men's 100m Breaststroke SB9 event for which he set a Paralympic record, and followed that up with bronze in the 4x100m men's medley relay. For his dedication in winning gold at his very first Paralympics, Paul was awarded an Order of Australia medal, allowing him to use the post-nominals OAM after his name.
"It almost feels like a different life and a different world," Paul says.
"My life then was swimming and work. Once I reached that goal, I thought 'I want different things in my life now'."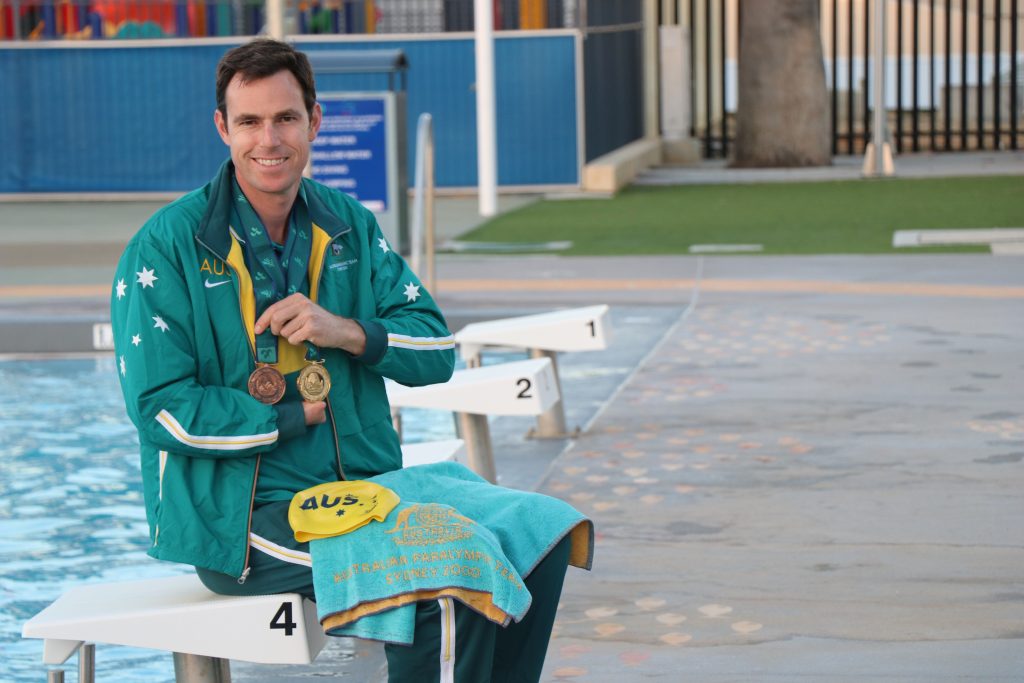 After dedicating six years to support work, Paul left Rocky Bay to head to Karratha, and then to Geraldton, to pursue a career in education. The first of Paul's various teaching roles was at the Education Support Centre in Karratha, supporting students with a disability, where he gained more valuable experience in the sector.
After a fulfilling career in education, it was time for a change and a new challenge. Paul returned in November 2021 to the organisation that supported him so much, stepping into his current role as Support Coordinator. 
"Rocky Bay snapped me up quite quickly, and the application experience was really positive," Paul says.
Paul was attracted to the role of Support Coordinator as he knew he'd be able to call on his own experiences to support others to navigate through the sometimes complicated and individual NDIS system, and help make a difference to their lives.
"Returning (to Rocky Bay) is something new, different and exciting," says Paul.
"In some ways it's a new start (in Geraldton) for Rocky Bay. The organisation has only been in Geraldton for just over a year, so the community is still getting to know what we're about, and what we do.
"We are here to help people understand what the NDIS is, explain the system and their NDIS plans. Sometimes we are the mediator, so we talk to the NDIS on behalf of our customers.
"You do feel really good when a person gets a good plan, as you know you've assisted in that. It makes a huge difference to people's lives – we have the joy of telling people the NDIS can provide them with funding."
Rocky Bay currently supports approximately 245 people from its Geraldton hub (with 85 accessing Support Coordination services), which is housed in a unique historical building that is over 90 years old and sits in a picturesque part of town.
With occupational therapy, speech pathology, physiotherapy, and therapy assistant services, in addition to support coordination, plus the ability to draw on the organisation's Perth-based resources, Rocky Bay in Geraldton is best placed to support the local community and neighbouring towns.
"We can provide people with local knowledge which is really important, but also access to even more resources in Perth which is such a great advantage," Paul says.
"All the staff at Rocky Bay in Geraldton come from different backgrounds and have different life experiences – there is definitely a family feel to our hub. Customers feel comfortable and welcomed."
To find out more about Support Coordination, or any other service offered in Geraldton, call Rocky Bay on 1800 570 525.