International Women's Day celebrations kicked off early at Rocky Bay with an inaugural, sold-out event held for all at the organisation's Mosman Park hub with over 80 guests, including disability sector peers, in attendance, on Thursday 4 March.
The successful event featured a panel discussion by a handpicked panel of professional women, including Chairperson at Role Models & Leaders Australia, Eve Howell, Environmental Consultant and founder of Happy Green World Foundation, Marlou Jongejan-Bessem, Australian athlete and bronze medallist in pole vault, Nina Kennedy, and Principal of Santa Maria College, Jennifer Oaten.
Rocky Bay Board Member and experienced journalist, corporate communications and media relations professional, Miriam Borthwick, facilitated the event.
This was the first International Women's Day event hosted by Rocky Bay, with the organisation confirming it plans to make the panelled event a yearly occurrence to continue to celebrate and recognise the achievements of its female employees, who make up 67 percent of the organisation's staff.
The panel discussed a range of thought-provoking topics including social media and its impact on young women, professional role models, working in male dominated industries, balancing work with motherhood, and of course equality in the workplace.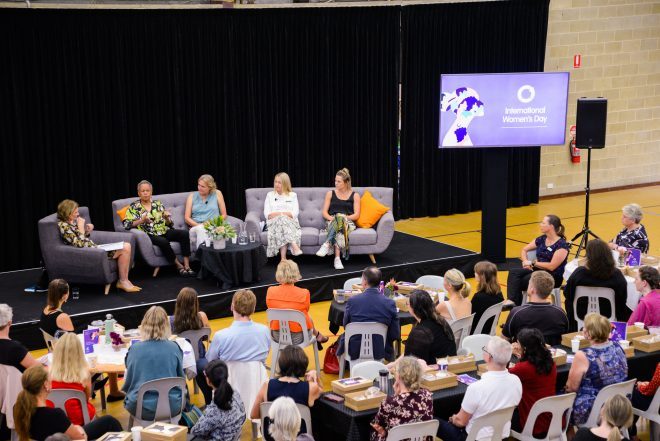 Ms Howell, an experienced geoscientist, executive and company director who has over 40 years' experience in the oil and gas industry, explains her mostly positive experience beginning work in a male dominated industry.
"Interestingly I was the first professional woman in the office. My immediate bosses were American and it was refreshing…a couple of my mentors came from that period," Ms Howell said.
"If it was different for me, I probably wouldn't have stayed in that industry. I think also at that time, Americans were probably ahead of other countries in terms of equality, because they had rules and laws about equal opportunity, which didn't come until later in other countries."
Having travelled much to Korea, Japan and China during her time in the oil and gas industry, Eve explained that building positive relationships and experiencing different cultures fostered a mutual respect, regardless of gender.
"What I loved was beginning to understand all these different cultures and appreciating them as well, and I think if you can be respectful, you get respect back."
In the sporting industry, Ms Kennedy explains there was still work to be done to remove gender bias and discrimination.
"It's everywhere in sport. When I was younger I didn't recognise it as much and I knew it wasn't right…I just didn't know how to express it and talk about it. Now that I'm a bit older I can see it for what it is," Ms Kennedy said.
Ms Oaten highlighted pressures many young women feel of choosing the right career, and that all young people should be encouraged to seek their own path and passion.
"I think a big part of it is helping girls find their passion, what is it they have a drive to do. Once they've actually found what their passion is, we should be helping them become aware of the challenges they may face and how they can overcome it, so it's all about resilience and understanding," Ms Oaten said.
"It's particularly relevant for young girls to see that's its ok to fail and understand that mistakes will me made along the way; that there will be different choices, but also there are lots of different pathways to get to where they want to go to."
Speaking of championing and empowering women, Ms Jongejan-Bessem and Ms Oaten said while there is still a way to go, and the right values should be instilled from childhood.
"It's all about respect. If you instil respect in your children, then they will respect the other," Ms Jongejan-Bessem said.
Ms Oaten added, "We need to do a lot of work with young boys as well. Encouraging girls and boys to consider each other equally."