Friday 7 August is Disability Support Worker (DSW) Day at Rocky Bay! It is a chance for us all to recognise the incredible work of our DSWs across our Community and Supported Accommodation divisions, and the vital support they provide to our customers every day.
We chatted with Chiara Pieravanti, DSW in our Community team, and Carol O' Brien, Lead DSW in Supported Accommodation, about their roles at Rocky Bay and how they support our customers.
MEET CAROL – SUPPORTED ACCOMMODATION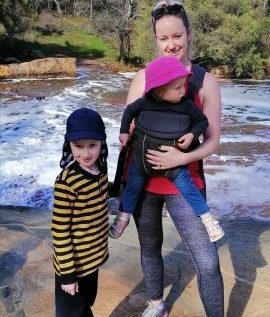 Upon moving to Australia from Ireland in 2008, Carol decided on a change from sports management to a rewarding career supporting individuals in the disability sector.
Earlier this year, Carol, along with Disability Support Workers Lisa Tynan and Kim Meagher, received a Rocky Bay Star Award, which recognises staff for exemplary service, for working together to support our fitness-loving customer, Fenton, in his goal of living a healthy lifestyle and helping him discover his interests, motivations and goal setting.
Carol and the team consistently work with Fenton to organise his fitness regime and more recently have been supporting him to gain meaningful employment. You can read Fenton's story here.
Describe a typical day as a Supported Accommodation DSW?
Every day is different. As a Lead Disability Support Worker, I work four admin days per fortnight and the rest of my working hours are spent supporting customers.
I assist the team lead with submitting rosters, attend customer therapy appointments, weekly vehicles inspections, and update files as needed. I am the 'go to' person when team leader is not there, liaise with trust managers and public guardians. I will also help out if a shift is not able to be covered.
When I am supporting customers, I attend medical appointments, assist with personal care, help customers reach their goals, plan activities, family visits, and provide general emotional support. I am always thinking of new ideas and ways our customers can achieve their goals.
What do you love most about your work?
Being a disability support worker is life changing. I have a great passion for helping people and I love working as part of a team. I love watching customers excel to reach their goals and every day activities, whether that be cooking, doing their laundry or walking to the shop on their own. I love to see our customers fulfilling the life they want to live.
Tell us more about your experience in your field?
I came to Australia 12 years ago from Ireland with a Sports Management Degree, but decided I wanted a complete change.
The summer before I arrived in Australia I had volunteered in a program in college which gave me the opportunity to travel to Alaska, where I spent three months working in group homes supporting people with disability, before starting at Rocky Bay where I gained experience and lots of knowledge from different team leads. I've also completed a Certificate IV in Disability Studies and Certificate IV in Management and Leadership.
I've recently become the Lead Disability Support Worker at Rocky Bay's supported accommodation in Eden Hill.
What do you love to do in your free time?
I am a mum of two children (6-year-old old and a 15-month-old), what is spare time?
I love been outdoors with my family. I love hiking with my husband and kids, cycling and walking. I love to keep busy and consider myself a very active person. I am always planning adventurers with my kids; we are climbing Bluff Knoll in August.
I love to take part in fun runs such as HBF Run for a Reason and City to Surf. I also love CrossFit and attend three classes a week. At the moment I am trying to choose paint colours for my house. And I do enjoy a night on the tiles!
What are three things you can't live without and why?
My beautiful family – my family means everything to me. I have a wonderful husband and two beautiful kids.
Barry's Tea Bags – these are Irish tea bags. If there are any tea drinkers out there you should try them. We have staff members at our house hooked! Ask any Irish person and more than likely a family member has at some stage sent them hundreds of tea bags via post.
My phone – not for messaging or calls, but for the photos I take with it. I love taking photos of my kids. One day, it is all they will have to look back on. I currently have 6,250 photos on my phone!
MEET CHIARA – COMMUNITY
Hailing from Perugia, Italy, Chiara made Australia her home in 2010. Outside of Rocky Bay she also works as a qualified Hatha Yoga instructor. With this experience behind her, Chiara recently began a new a Community class for customers, Move and Groove in Your Seat, which supports movement and dance.
Chiara is also part of the Studio team who recently won a Rocky Bay Star Award in the category 'COVID Heroes'. The Studio team received numerous nominations from their colleagues and were recognised for their tireless and innovative work during the height of COVID period for keeping our Community customers connected to services. They developed many new initiatives, including the Fun Bus, that delivered creative activity bags to supported accommodation customers.
Describe a typical day as a Community DSW?
I do the shopping for the Studio's Cooking Group (held Tuesday and Thursday) on my way to work. Once at work, I set up for 'Move and Groove on Your Seat' in the Mosman Park gym.
This class is a lot of fun, with new music each week to keep things fun and interesting. We begin with a yoga style warm-up, which includes breathing exercises and tapping your hands in the energy centres in the chest and face to get the body prepared. We then move to dancing to uplifting music, and finish off with a cool down to relaxing music, more yoga poses to stretch the body and relax the mind, and some positive affirmations or gratitude practice.
After that, I help in the Studio with whatever activity is on (pottery, craft, mosaic, cooking). I sometimes have bookings from our supported accommodation homes where I travel to deliver the Move and Groove classes.
Every day is different which makes it enjoyable and fast paced.
What do you love most about your job?
I feel blessed to be part of the Studio team, because I work with some amazing human beings and I get to share my passions with the customers doing all the things I love most, like cooking, yoga, Zumba, art and craft. I love the variety of all.
The Studio has become my Oz family and I absolutely love being able to share my passions, and supporting customers in maintaining their health and wellbeing with the creative activities that we offer.
Tell us more about your career experience?
I worked in hospitality for 15 years in various roles – I was a wine sommelier and catering planner in Italy, and in Australia I worked as a waitress, barista and deli clerk.
I started a career in caring in 2013, doing in-home support for the elderly in the community. Then I had the opportunity to support younger people living with disability – I enjoyed it so much that I decided to redirect my career towards the disability sector.
I started with Rocky Bay Studio in 2015 and became a qualified yoga instructor in 2016. I am passionate about making yoga, and more recently Zumba, accessible for people of all abilities.
What do you love to do in your free time?
When I am not working, studying or teaching, I love to spend time outdoors going hiking around the Perth Hills, and spending time with my eight year-old daughter, Clara, doing DIY around the house and cooking yummy, healthy vegetarian and vegan food.
In summer I spend a lot of time at the beach with my stand-up paddle board and chilling in the sunshine. I also love dancing, so when I get the chance I go out for a groove, watch live bands or do ecstatic dance – I enjoy doing that to uplift my spirit!
Click here to find out more about our Community programs or supported accommodation options in and around Perth, or call our friendly team on 6282 1900.