Customer Bradley riding the Beach House trike
Guests at the Beach House, Rocky Bay's respite guest home in Rockingham, have been enjoying the bundles of fun that a tricycle can bring!
Customers such as Bradley – who is a monthly guest of the Beach House – have the opportunity to build on their wellness by going for rides along the beautiful Rockingham coast.
The trike, which is permanently based at the Beach House, also provides wider-reaching benefits for customers, according to Lead Disability Support Worker, Heather Harrower.
"It is a great piece of equipment that provides guests with the independence and satisfaction of riding a trike, especially if a two-wheeled bike is not an option.
"The most obvious benefit for Bradley is his physical fitness and building his strength and mobility," Heather said.
The use of the trike was made possible by Rocky Bay's Equipment team, who had two donated tricycles passed down to them by Rocky Bay's Property team. Equipment set about restoring the trikes to ensure they were safe and fit for customer use.
"I told the team how interested I was to have one for the Beach House and was told we were welcome to one," Heather said.
Rocky Bay Equipment Manager, Eamon O'Brien, said the restoration project came at the perfect time.
"We had just employed our Apprentice Technical Officer, Anro, and thought restoring the trikes would be a good introduction to his trade," Eamon said.
"It was an electric bike initially. The battery was missing, the wiring was messy and the tyres had disintegrated. We couldn't source parts for the electronics, so Anro removed them and converted it to a manual trike; with new tyres and tubes and it was good to go."
The Equipment team have fully restored another two tricycles donated by customers who no longer had use for them. Both were fully stripped, the frames sand blasted and powder coated, the fixed cranks (which means the pedals turn when the wheels turn) were fitted with new hubs to allow the tricycles to safely coast, and they were fitted with new tubes and tyres.
These tricycles are now available for hire for Rocky Bay customers.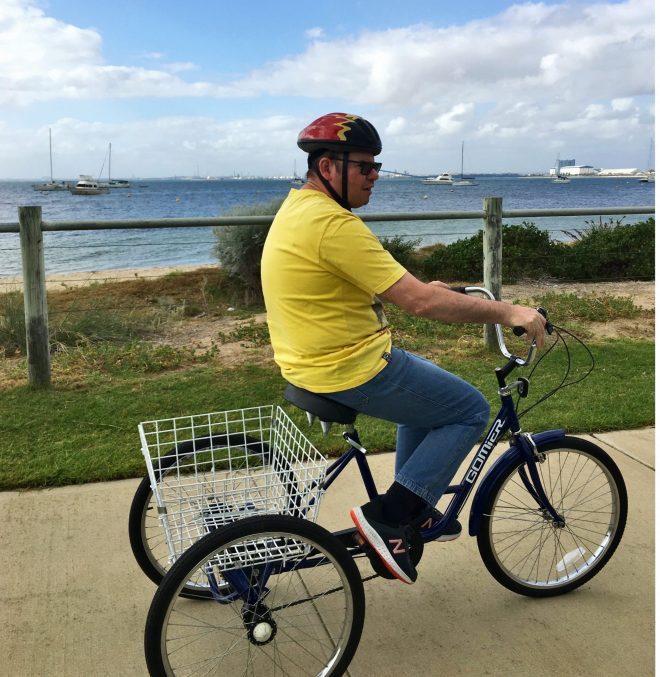 Rocky Bay's Mosman Park hub has a restored, unique duet tricycle with a wheelchair style seat mounted at the front with two wheels, and a single at the rear, which is available for Community customers to enjoy.
To find out more about our respite guest houses in Rockingham, Gosnells and Beeliar, or Rocky Bay Equipment sales or hire, call our friendly team on 6282 1900.