During this challenging time, when we are all required to adapt to a new way of living, it's important to stay active and connected to activities that make us happy and keep us busy.
To help customers stay creative and active in this period of isolation, Rocky Bay's creative Studio staff started a new initiative to spread some joy to our customers. The team have put together a range of Activity Bags – all art and craft related activities – and are delivering them to our supported accommodation and respite guest house customers from south to north of the Perth metropolitan area in the Fun Bus!
Team Leader in The Studio, Carmel Prout, said that feedback from customers has been very positive and everyone has been thrilled to be able to take part in art and crafts sessions at home.
"Our customers have been happy to see the Fun Bus turn up and seeing the familiar faces of the team. It's nice for our customers to be able to see what is available and have the freedom of choice on what activity they may like to purchase and make", said Carmel.
"It's wonderful to hear what a difference these Activity Bags are making in people's lives."
Since 2 April, the Studio have sold nearly 200 Activity Bags. Orders have also been flooding in from customers outside of Rocky Bay's supported accommodation homes and guest houses, which are organised to be delivered to the customers' homes.
Laura Girolamo, mother of Lucas Girolamo, said she was delighted with the idea of the activity bags andpraised Rocky Bay's team for providing such an engaging activity.
"They are fantastic! My son loves working on them at home," said Laura.
"It's also greta bonding time with him whilst keeping him busy."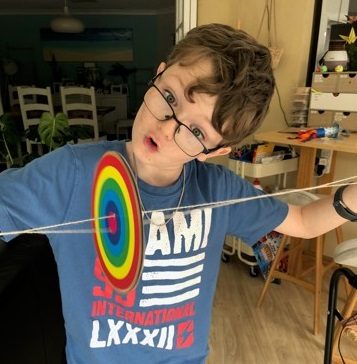 Lucas Girolamo
Disability Support Worker, Hattie Lustig, said customers are always excited to see what they have in the Fun Bus on arrival.
"It's great to have the opportunity to bring a little joy pack to our customers at this time of need", she said.
The arty activities not only allow customers to be creative and enjoy a much needed break from current daily challenges of our new environment, they help to support fine motor skills – Activity Bags are a fun form of art therapy!
Activity Bags are available to order for a limited time from the rocky Bay Studio. Prices range from $5 to $10, and all instructions and materials are included. To complete the activities all you may need is some glue, a needle and scissors.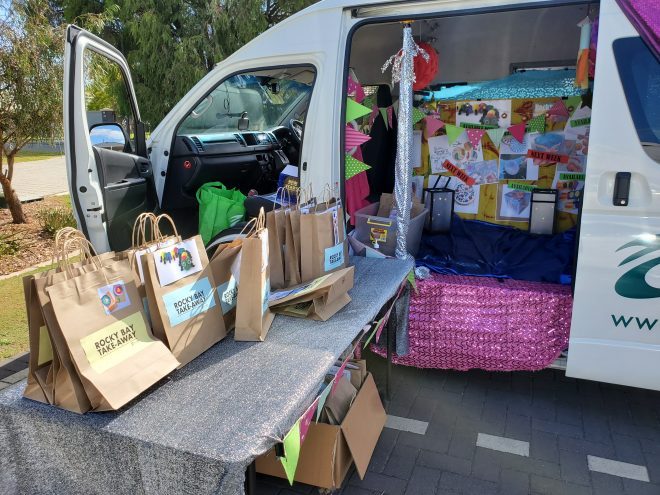 Click here to find out more about the Activity Bags and to order yours today. You can also call our friendly Studio team on 08 9383 5153 or email [email protected]
Health & Wellbeing Bus coming soon…
Keep your eyes peeled for more information to come on the Health & Wellbeing Bus, which will soon be making its way to Rocky Bay customers!
The Health & Wellbeing Bus will be offering dance fitness, mindfulness and yoga, with the activities designed to assist with mobility and flexibility, improve coordination, balance and concentration, as well as improve breathing capacity.
Click here to register your interest for the Health & Wellbeing Bus.