From 18 to 24 May, we celebrate National Volunteer Week, an annual celebration that recognises the generous contributions of volunteers all over Australia.
The theme this year is "Changing Communities. Changing lives". Rocky Bay are lucky to have many amazing volunteers who always manage to put a smile on the face of our customers and staff.
Nineteen-year-old Jade Geerlings-Batt is one of those volunteers, having begun her time with Rocky Bay in November 2017 as a 16-year-old.
"Jade would reliably email me prior to each school holiday period and offer her time to volunteer," said Rocky Bay Volunteer Coordinator, Jenny Styles.
"Even throughout her very busy and important Year 12 studies, Jade continued to volunteer every school holiday."
Jade is in her second year of studying Radiography at Curtin University and volunteers in her free time and university breaks. Our customers love seeing Jade in The Studio, where creative classes are held for our customers, just as much as our staff enjoy her assistance also.
Check out the below Q&A with Jade and get to know her, and her motivations for becoming a volunteer, a little more.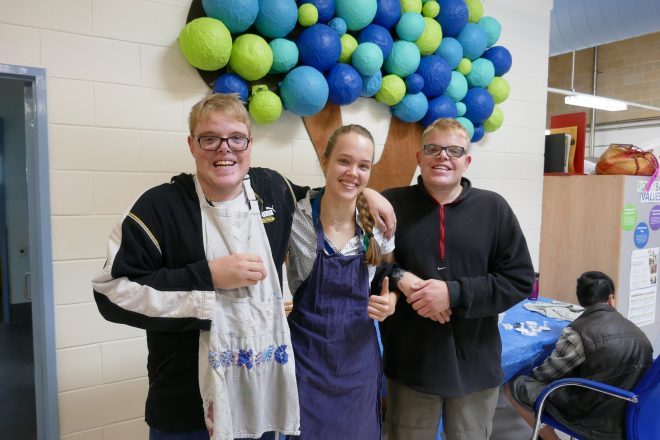 Q&A WITH JADE
What does your role as a Rocky Bay a volunteer involve?
You'll find me volunteering in The Studio. I assist customers with mosaic, cooking, painting, embroidery and pottery groups. I also love being able to chat and make conversation with customers.
Why is volunteering important to you?
Volunteering provides me with a fantastic opportunity to meet diverse and interesting people that I may not ordinarily meet. Giving my time to others is really rewarding and allows me to make meaningful contributions to the community.
Why did you choose to volunteer at Rocky Bay?
When I was 16, I had sacroiliitis and I experienced what it was like to have people focus on what I couldn't do, rather than what I could do.
One of the things I love most about Rocky Bay is the focus on discovering abilities. In The Studio I've been able to work with customers and their many different skill sets, talents and abilities. I love being able to support them to create amazing artworks and delicious meals!
What do you love most about volunteering at Rocky Bay?
I love working with the customers and staff the most!
When I finished high school, it felt like my world was completely changing and I was really grateful that volunteering at Rocky Bay was not. Over time, I've been able to get to know so many customers and staff and I truly feel like I've become a part of the Rocky Bay family.
Rocky Bay is always a safe, warm and welcoming place and I feel fortunate to be a part of the Rocky Bay community and volunteer team.
Click here to find out more about becoming a volunteer with Rocky Bay.