Building independence and learning new skills in a fun and supportive environment is so important. Did you know Rocky Bay can help you learn develop your skills and confidence, all while doing the activities of your choice?
Rocky Bay's team of disability support workers can work with you to discover your abilities, access and participate in your community, find meaningful employment and make new friends, develop life skills, transition from school to the workforce, and live as independently as possible, all while having fun and exploring your community.
STEP program
Rocky Bay's individualised NDIS-funded STEP program will support you to help you find meaningful employment that matches your individual goals, strengths and interests.
Our dedicated support workers will spend time getting to know you, your abilities, passions and skills, and work with you to identify your niche in the workplace.
Our team are currently experiencing a high volume of enquiries for the STEP program, so please get in touch with our friendly Customer Engagement team for a chat if you have this service in your NDIS plan.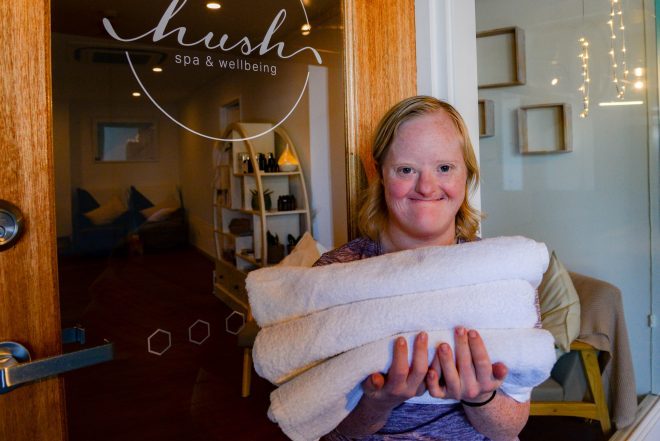 Read Leah's story here
Community inclusion
Being part of the community is so important for keeping active, building connections and friendships, and increasing opportunities for inclusion. We can help you find your way around your community and access the local social and leisure activities you are really interested in.
Enjoy supported leisure time in the community doing the things you enjoy most, whether that be catching a movie, watching sport or enjoying lunch at a café.
In-home care
We understand maintaining your independence, especially in the home, is a key goal for many of our customers. Our in-home services can support you to live in your own home, by assisting with a variety of tasks including personal care to help you maintain your health and wellbeing, and tasks around the home such as cooking and laundry.
You can access Community services if you have an NDIS or WA NDIS plan, Disability Services Commission funding or Medicare. You can also fund your own services.
To find out more about how Rocky Bay's Community team can support you to reach your goals, call our friendly Customer Engagement team on 6282 1900.