Independent homes may be right for you if you have the ability to live independently, but still want the support of a trained carer when you need them.
Rocky Bay has a number of independent homes in two locations in Perth, offering modern, fully accessible homes for people living with disability who make their own rules. These homes range from one bedroom to four bedrooms, giving you the possibility to live with friends, or by yourself if you'd prefer.
Independent homes at Rocky Bay offer:
Supported independent living
Access to 24hr onsite assistance
Promotion of health and well-being services
Individualised plans and support to pursue your goals
Transition support – life skills training
Support to participate in the community
Nearby access to recreation activities, allied health and hydrotherapy.
Age

Diagnosis

Amputations (Single/Multiple)
Angelman Syndrome
Arthrogryposis
Attention Deficit (Hyperactive) Disorder
SEE MORE
Batten Disease
Bi-Polar
Blind/Vision Impairment
Brain Injury (Acquired)
Brain Tumor
Charcot-Marie-Tooth Disease
Cornelia de Lange Syndrome
Cri du Chat Syndrome
Deaf/Hearing Impairment
Developmental Delay (0-8 years only)
Down Syndrome
Dysgraphia
Ehlers Danlos Syndrome
Encephalitis
Epilepsy
Fibromyalgia
Fragile Y Syndrome
Friedreich AtaXia
Guilliane Barre Syndrome
Hallervorden Spatz Disease
Huntington's Chorea
Laurence Moon-Bartel Syndrome
Lennox Gastaut Syndrome
Microcephaly
Motor Neurone Disease
Moyamoya Disease
Muscular Dystrophy
Nemaline Rod Myopathy
Poliomyelitis
Prader-Willi Syndrome
Rett Syndrome
Seckel Syndrome
Spastic Paraparesis
Speech Impairment
Spina Bifida
Spinal Muscular Atrophy
Stroke
Tuberous Sclerosis CompleX
Williams Syndrome
SEE LESS
Ok, I'm ready, how do I move in?
If you have accommodation in your NDIS plan already, then simply give our team a call on 6282 1900 and ask about current vacancies.
If you don't yet have accommodation in your plan, talk to your Support Coordinator or NDIS planner next time you meet. At the planning or plan review stage, your Support Coordinator can provide a house report, including a functional assessment, conducted by an Occupational Therapist. The NDIS planner, upon reviewing the housing report, will provide a quote for supported independent living. This indicates the amount of support the NDIS is willing to offer you.
For the latest vacancies, please contact our Customer Engagement Team:
Phone: (08) 6282 1900
Email: [email protected]


Independent Homes are houses in the community operated by Rocky Bay that offer independent living, backed by the support of care workers if and when you need them.
Independent Homes are for anyone aged 18 and over who is capable of living independently with care available as needed. Not quite ready to move out full time? Rocky Bay Guest Houses offer short term respite when you're looking for a break, or a means to trial living independently as you transition to supported care. Take a look at Rocky Bay's Guest Houses here.
Rocky Bay has independent accommodation units in Mosman Park and Hamilton Hill.
To be eligible for Rocky Bay's Independent Accommodation, you will need to have NDIS SIL (Supported Independent Living) funding. You may also access this service if you are eligible or have the ability to pay through a compensable insurance scheme or private fee for service. If you don't have SIL currently in your plan, we can help with that too!
Yes, payments for rent and amenities will be required however, it will differ for each option. Our representative will be able to talk you through the details. As a rule, we do not charge more than 75% of your pension income.
If you decide to move into one of our homes, you will need to sign a Service and Rental Agreement. These agreements will be reviewed annually.
Yes and we assess each individual to make sure we have the expertise and requirements to ensure full support can be provided.
When you contact us about our accommodation, we will discuss with you in detail about: your support requirements, where you would like to live, and ideally whether you wish to live alone or in shared accommodation. We will then determine if we have any vacancies that you may find suitable. If you decide you would like to explore these options, we will arrange a meeting with you to gain a more in depth understanding of yourself, your wants and needs. At the end of the meeting, we will all decide whether to progress to the next stage to ensure the accommodation will meet all of your requirements and requests. Once agreed, a visit to the property and introduction to other residence and staff will happen.
For peace of mind, we are able to keep your details on our waitlist and let you know if any vacancies arise that are suitable for your needs. This may include any new SDA developments that Rocky Bay is currently developing.
When it's time to move in, we will work with you to develop a support plan, unique to your personal needs. With your permission, this will be shared with all of your support workers. Even in shared living options, we ensure that each individual's bespoke needs are met. We encourage people to make choices and decisions on a daily basis.
We believe it is very important to ensure that managers are accessible to you. Each house has a dedicated Team Leader who is responsible for everyday operations of your services. Team leaders are normally on site at least 2 days per week. If you would prefer to talk to someone else, we have a Customer Engagement Team, who can be contacted 8am – 5pm, Monday – Friday. We also recognise that sometimes things happen overnight or during a weekend, a Team Leader may not always be available. To cover for this, we have a dedicated team of After Hours Co-ordinators, who can be on site in less than an hour to deal with any issues that may arise. They also provide advice and support over the telephone.
Yes, Rocky Bay's dedicated Property Team and Health and Safety Manager ensure that all of our properties are maintained, safe and updated as required. All staff members receive health and safety training. Regular checks are conducted on all fire fighting and electrical equipment.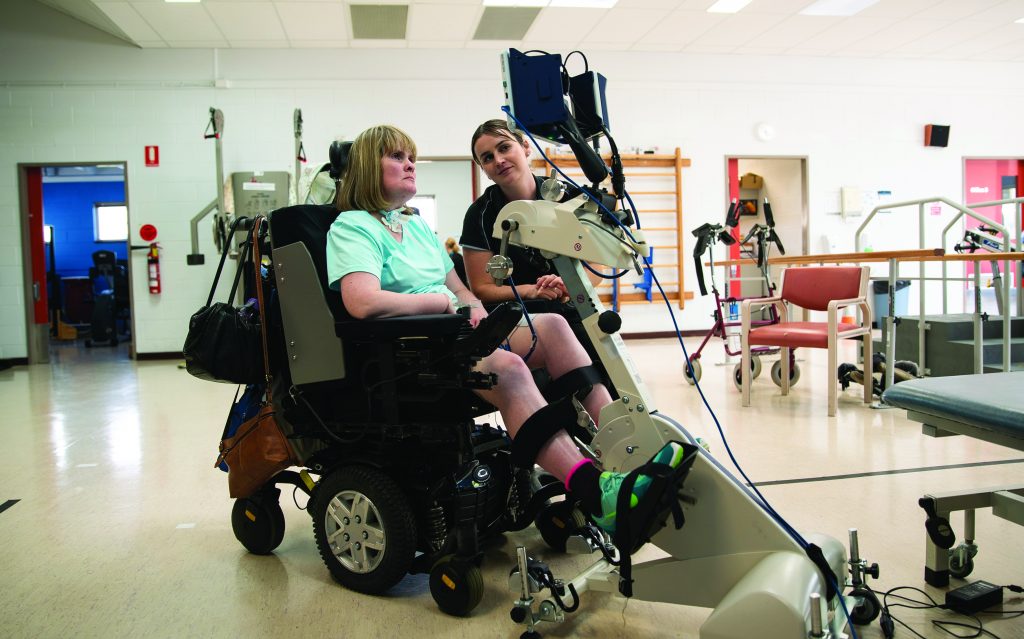 Alicia
In 2012, Alicia Waterman underwent major spinal surgery for a...