As part of our commitment to putting our customer's at the centre of everything we do, Rocky Bay has secured funding which allows us to offer emergency respite (at no charge) to customers.
This respite funding may help provide support when unplanned events or even crisis situations occur. A period of respite could provide relief from stress during difficult times, and allow rest for caregivers to restore energy in their lives and refresh their physical and mental health.
To be eligible for emergency respite you must be;
over 18 years of age
a NDIS Participant without respite funding/flexible core funding
NDIS Eligible but without a current plan or have plan in progress
not eligible for NDIS funding
Age

Diagnosis

Amputations (Single/Multiple)
Angelman Syndrome
Anti-NMDA Receptor Encephalitis
Arthrogryposis
SEE MORE
Aspergers
Attention Deficit (Hyperactive) Disorder
Autism/PDD
Batten Disease
Bi-Polar
Blind/Vision Impairment
Brain Injury (Acquired)
Brain Tumor
Cerebral Palsy
Charcot-Marie-Tooth Disease
Charge Syndrome
Cornelia de Lange Syndrome
Cri du Chat Syndrome
Deaf/Hearing Impairment
Dementia / Alzheimer's
Down Syndrome
Dysgraphia
Dyslexia
Dysreflexia
Ehlers Danlos Syndrome
Encephalitis
Epilepsy
Facial Auricular Vertebral Syndrome
Fibromyalgia
Fragile X Syndrome
Friedreich AtaXia
Generalised Dystonia
Guilliane Barre Syndrome
Hallervorden Spatz Disease
Huntington's Chorea
Intellectual Disability
Laurence Moon-Bartel Syndrome
Lennox Gastaut Syndrome
Microcephaly
Minicore Myopathy
Motor Neurone Disease
Moyamoya Disease
Multiple Sclerosis
Muscular Dystrophy
Nemaline Rod Myopathy
Neuromuscular Disorders
Obessive Compulsive Disorder
Parkinson's Disease
Poliomyelitis
Prader-Willi Syndrome
Psychiatric Disability
Rett Syndrome
Seckel Syndrome
Spastic Paraparesis
Speech Impairment
Spina Bifida
Spinal Cord Injury
Spinal Muscular Atrophy
Stroke
Trisomy 18
Tuberous Sclerosis CompleX
Williams Syndrome
SEE LESS
This service is available at all of Rocky Bay's current guest house locations;
The Bush Retreat in Beeliar
The Country House in Gosnells
The Beach House in Rockingham
Parkland Retreat – COMING SOON!
Rocky Bay are expanding our respite services into the Northern suburbs with Parkland Retreat anticipated to open in Noranda this September.
Each enquiry will require individual assessment for eligibility. For further information and to see if you may be eligible for this emergency respite service, please contact Customer Engagement 6282 1900 or [email protected]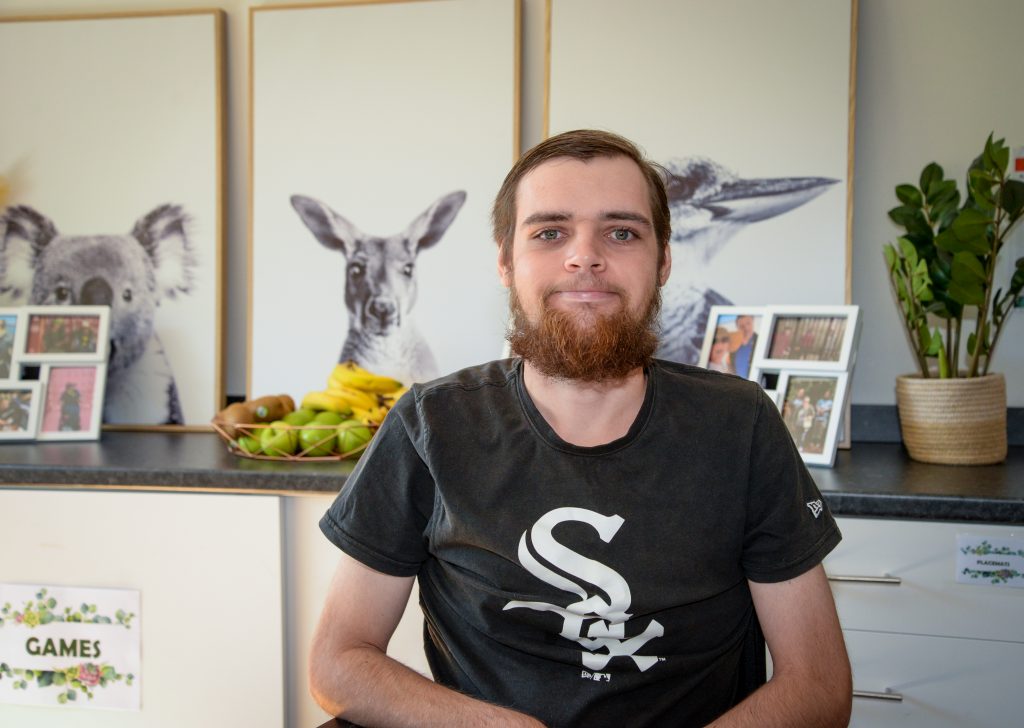 Jarrod
Brain Injury (Acquired)
Brain Tumor
Jarrod Douglas was 20 years-old when he was diagnosed with...