An exciting new era of independent living and contemporary housing for people living with disability is set for East Victoria Park, with the first brick laid at the latest development by Shift Accessible Homes, a Rocky Bay company.
Rocky Bay CEO, Michael Tait, Rocky Bay CFO and Shift Executive Officer, Adam Maxwell, and Shift Board Chair and Rocky Bay Board member, Jeff Holloway, were joined by Member for Victoria Park, Hannah Beazley MLA, and representatives from Northerly Group and Celsius Property Group to inspect the new development, with construction now underway.
Rocky Bay customers, Malcolm Burgess and Leanne Chew, also had the opportunity to view the beginnings of the build which will be their new, accessible home once complete, giving them the opportunity to live as independently as possible.
Shift draws on Rocky Bay's over 80 years of practical insights into how care is delivered in homes. The new Specialist Disability Accommodation (SDA) is a joint venture with Celsius Property Group and commercial builder, Northerly Group.
The SDA build will be integrated community combined with housing for open market, and will include eight villas, four of which will be SDA.
The villas will feature a mix of two and three bedrooms and two bathrooms for 10 SDA participants, and up to 11 bedrooms across the other four villas. The SDA villas will be designed to suit individuals with high physical support needs.
Notable features include integrated assistive technology and environmental controls such as automatic blinds, doors and lighting; secure entry and parking; structures for ceiling hoists; sound treatments to bedrooms for privacy and increased amenity; battery back-up for life saving emergency devices; enhanced safety through fire sprinklers and fire emergency monitoring.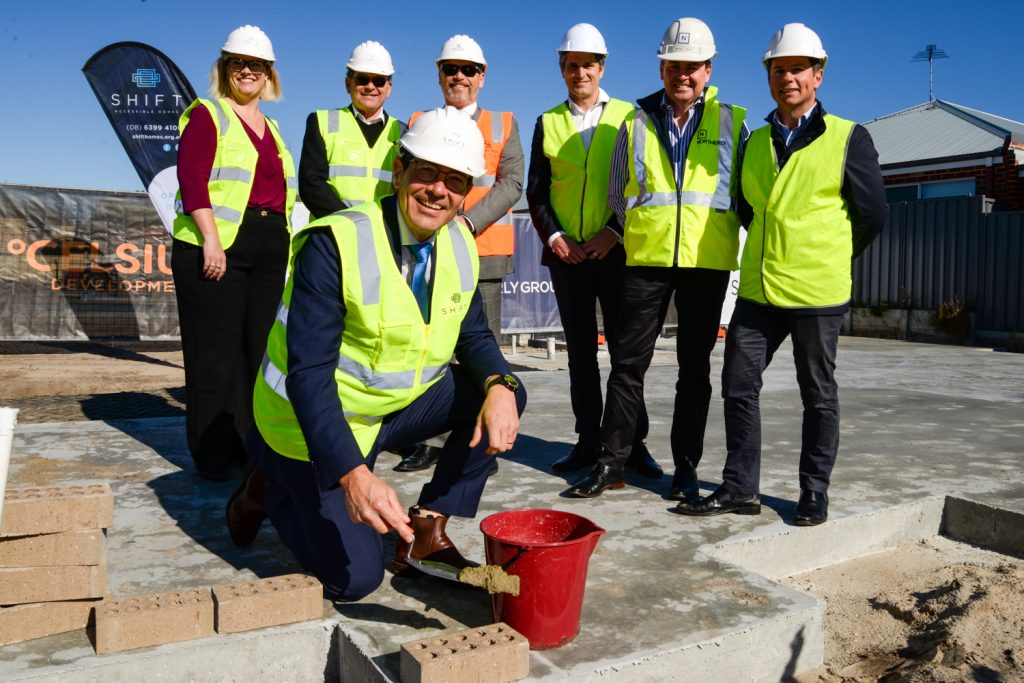 Mr Tait said it was exciting to see the beginnings of the brand new SDA development come to life.
"Shift, in partnership with Rocky Bay's insights of the disability sector, is proud to be leading the way in contemporary Specialist Disability Accommodation in Western Australia," Mr Tait said.
"This new development, as with all our new builds, is a collaborative project between Shift and our customers. Our team will consult with them on all design features, right down to the colour of paint on the walls; we want to continue empowering our customers with choice and control, particularly when it comes to the development of their home."
Ms Beazley said the new development was an exciting addition to the local area.
"Victoria Park is an incredibly inclusive place to live, and I think this (development) is evidence of that.
"Having SDA developments here is a very welcomed addition to the residential community."
The Town of Victoria Park's Disability Access & Inclusion Plan highlights that nine per cent, or 1,652, of the local government area's population has a need for assistance. Ms Beazley said that a lot of work is already being done to make accessibility a priority.
"There's a lot of work going into accessible parklands and recreational activities. We are also home to a lot of services, including WADSA (WA Disabled Sports Association), and the new development at Rayment Park in Lathlain is incredibly accessible.
"It really is an emerging area, and I'm really pleased that the State Government and the Town of Victoria Park are identifying that and trying to encourage accessible developments."
To find out more about this or future SDA builds by Shift Accessible Homes, call 6399 4100 or click here to visit Shift online.