Rocky Bay welcomed in National Reconciliation Week 2020 with a traditional smoking ceremony at Korbosky Park in Lockridge.
Led by Noongar Elder, Ben Taylor Cuimermara (affectionately known as Uncle Ben), he was joined by his brother, Alf, who is a poet, Daniel Garlett, who played the Didgeridoo, and Noongar Elder, Mingli Wanjurri McGlade, who assisted with the ceremony.
Eight Aboriginal and Torres Strait Islander Rocky Bay customers also took part in the ceremony, some for the first time in their life.
The smoking ceremony is a traditional Noongar ritual used to cleanse and purify a specific area, as well as the spirit and body, whilst in Noongar country. It involves burning various native plants to produce smoke, which has cleansing properties and wards off bad spirits from the people and the land to make a pathway for a brighter future.
The smoking ceremony marked the start of a week-long focus on reconciliation initiatives including the Fun Bus, supplied with art and craft activities, which travelled to Rocky Bay's supported accommodation homes around Perth to bring activities such as dot painting boomerangs and book marks, animal paper jigsaws, and making clap sticks to customers.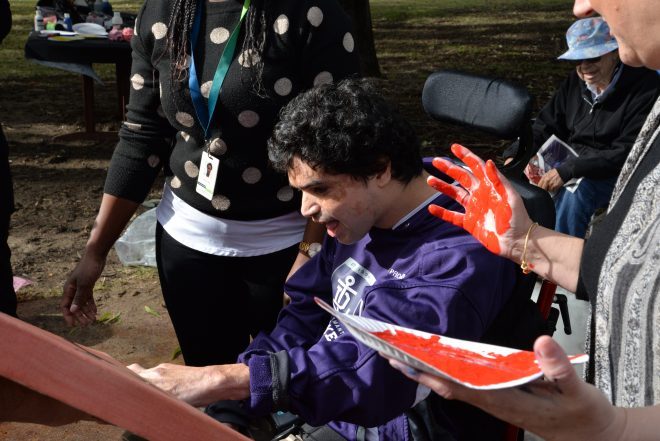 Rocky Bay's Reconciliation Action Plan (RAP)
Rocky Bay's Reconciliation Action Plan (RAP) Committee is also focused on preparing our second RAP, which formalises the organisation's commitment to engaging more deeply with Aboriginal peoples and the wider community and provides a clear strategy around this.
The start of 2020 saw a consolidation of the RAP committee, with membership from across the organisation as well as one external committee member, Chloe D'Souza. General Manager Clinical Services, Michelle Dillon, is Chair of the committee, which meets monthly.
The second stage of the RAP program, overseen by Reconciliation Australia, is called an 'Innovate' RAP. This will see Rocky Bay introduce more personalised, creative actions that seek to promote reconciliation. It will be launched later this year and will run for two years.
This is an exciting time for Rocky Bay and the committee look forward to working hard to see actions completed and to promote a spirit of reconciliation across the organisation.
Once finalised, the updated RAP will be available on our website.
Reconciliation at Rocky Bay involves more than just the RAP Committee, it is a journey for all of us. You can access Rocky Bay's current Reconciliation Action Plan here.
Click here to find out more about reconciliation.