As socially isolating as the coronavirus has been on the community, it has spawned a number of positive and sustainable initiatives for Rocky Bay. One of the most vibrant of these is the Rainbow Project.
Not to be confused with the LGBT movement of the same name, the Rainbow Project, like its namesake, encourages everyone to connect with each other.
The emphasis is on encouraging and assisting customers to express themselves through art, photography and written word, sharing their work by posting it to some of Rocky Bay's supported accommodation homes.
Project creator and Disability Support Worker at Rocky Bay's supported accommodation home in Karrinyup, Kerry Brindle, explains:
"Throughout the world, the rainbow has been used during the pandemic as a symbol of hope and a sign of solidarity whilst in isolation and lock-down.
"I thought of project initiative in April and shared the idea with my acting team leader, Rory Johnston and Manager, Steven Kennedy, and got their support. Then we began working with our customers to paint up rainbows.
"The Pike street customers took to paint and paintbrushes like Picasso's and Da Vinci's. The creative juices flowed and spilled forth on paper. It was organised chaos but a huge amount of fun."
Kerry says it was a way to keep connected and show others in the same situation that everyone is in this together.
"Although things look different, we can still connect and communicate."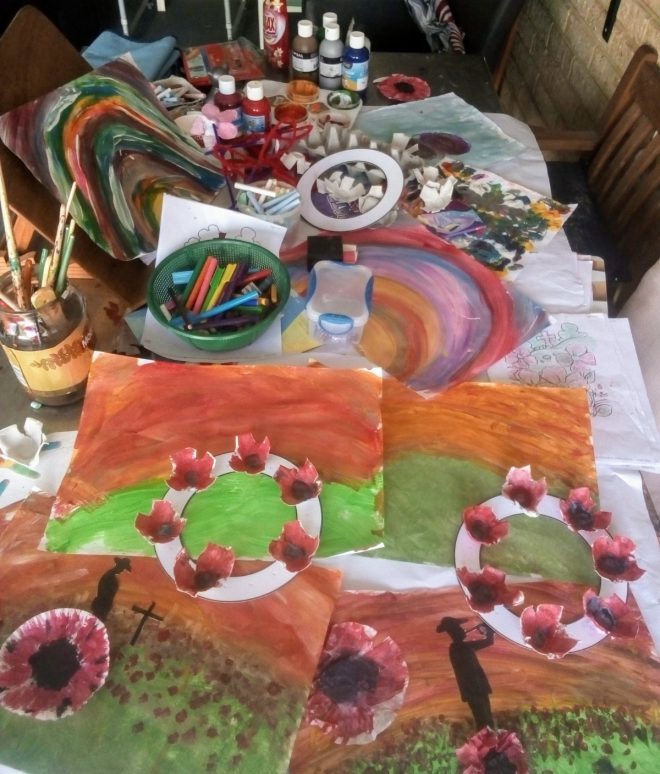 Kerry says the concept is a kind of artistic version of finding a pen pal and staying in touch by post – although electronic engagement is also welcomed.
"I hope it ignites that old school Pen Pal idea where you strike up a connection that becomes a friendship. Over time, that might become coffee catch-ups with other Rocky Bay customers, and visits within our supported accommodation houses."
Kerry says the Project is a way for customers and staff to interact with other parts of the organisation they normally have nothing to do with.
"Sometimes, it feels like we each take care of our customers in their homes but we have no involvement with other staff or customers within the Rocky Bay community.
"For such a large organisation, it is important that customers and staff have continued and consistent social outlets and places for expression."
She says this is especially important for staff who work alone, engaging one-on-one with a customer and rarely seeing or speaking with anyone else during the course of a shift.
"This helps bridge that gap. It keeps spirits up and helps us stay connected in a way that is unconventional.
"Our mail system isn't used in the way it once was. The feeling of getting a letter and the anticipation that one is coming are natural and organic feelings of happiness.
"It's not instant gratification, it's not technology, it's connection by our old school roots, in an old fashioned way that still colours our world."
The Rainbow Project has no end date and Kerry hopes it will create a sustainable life of its own.
"My hope that people make successful connections from one house to another and Pen Pal correspondence flourishes into the future, long after the coronavirus has gone.
Kerry, who is also a proud member of the LGBT community, says the Rainbow Project has already taken off and there are postal portrayals of positivity, hope, friendship and love, snail-mailing their way around the organisation.
"Once we've assembled enough positive pieces of artistic expression, we will create a large rainbow collage to demonstrate how many wonderful connections have been made. That's how rainbows are made."