Rocky Bay has expanded its equipment services to provide a one-stop-shop for all of your equipment needs.
Now known as Rocky Bay Equipment, it will still encompass all the services you know and love including:
Our expert technicians will work with you and your therapists to create customised, highly advanced equipment to meet tour specific physical needs.
We have a large selection of specialised refurbished health care equipment available for purchase.
Hire from a selection of refurbished wheelchairs, walking frames and commodes. Ideal for temporary needs.
If you have an item you wish to sell, bring it to Rocky Bay for professional cleaning.
Regular servicing will ensure your equipment lasts and works as it should. We also have a mobile service, so we can come to you!
Making every day that little bit easier by connecting you to the latest technology for you and your home.
The Rocky Bay Equipment team can help with designing and manufacturing customised postural supports and mounts, sourcing quotes and equipment from external suppliers and even checking on your funding availability.
Rocky Bay Equipment is committed to providing the very best equipment for your needs, and will work with you, your therapists and carers to find the right solution to help you thrive.
See the proof for yourself!
Our PostureTech team helped long-time customer, Craig (pictured below), with postural intervention to get him back into a comfortable seating position in his wheelchair.
Working together with his occupational therapists, our experienced team of technicians and upholsterers made a huge difference to Craig's overall wellbeing.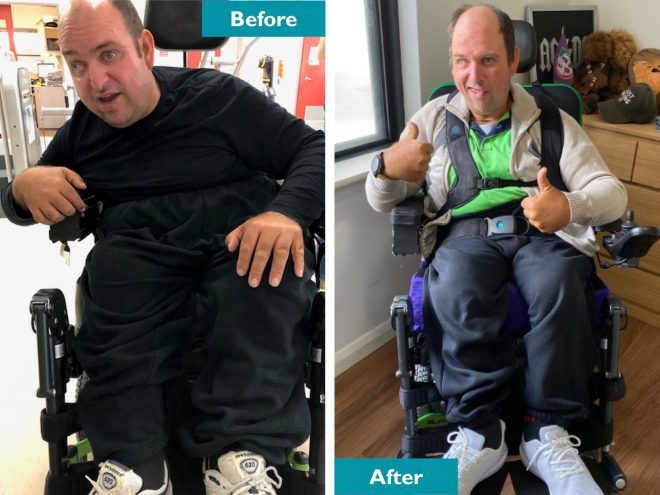 To find out more, or for equipment sales, hire, maintenance, sterilisation and assistive technology queries, please contact Rocky Bay Equipment on 6399 4191 or [email protected]
Or why not visit Rocky Bay Equipment here to view a range of pre-owned equipment for sale.