Moving around our own house easily for what we want, when we need it, is something many would take for granted.
For 32-year-old Michael Pisan, this was not something he was able to do until recently, thanks to necessary home modifications funded through the Community Aids and Equipment Program (CAEP), and built with guidance from his Rocky Bay Occupational Therapy team.
In 2015, Michael was diagnosed with Hodgkin's Lymphoma, and later developed an auto-immune condition called Paraneoplastic Syndrome. As a result, Michael lost the majority of his movement, leaving him unable to walk. He lost his vision and experiences nerve pain and muscle spasms.
Prior to being diagnosed, Michael was very active; he worked as an Outdoor Education teacher and played lots of sports.
For the past four years, Michael has attended physiotherapy sessions at Rocky Bay three times per week, supported by his Physiotherapist, Amy Thompson, working hard toward his goal of becoming more independent.
He remains mobile by using a manual wheelchair, and until recently was completely reliant on his parents Jane and John, who he lives with, to assist him with daily living tasks, including toileting, showering and dressing.
Essential areas of the family home before the modifications were not full accessible for Michael. The bathroom closest to his bedroom had a shower with a hob and a bath, making it difficult for him to utilise, so Michael showered in his parents' ensuite with their assistance.
In addition, the toilet door was unable to be closed, so a curtain was hung for privacy.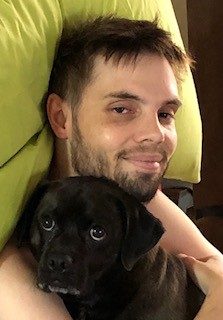 Because of the muscle spasms Michael experiences as part of Paraneoplastic Syndrome, easy access to hot water is important as it can help to manage the resulting pain.
Home modifications for the bathroom therefore became a necessity for Michael and his family.
Rocky Bay Occupational Therapist Assistive Technology, Lisa Chick, with support from Advanced Clinical Occupational Therapist, Naomi Akizuki, assessed the Pisan family home environment, to identify the need for modifications and make recommendations for a more accessible bathroom and toilet.
Rocky Bay's team met with the project manager to help develop plans for what modifications were possible, obtained quotes from builders, and organised a funding application for approval by the CAEP sub-committee. Lisa and the team also liaised with the Pisan family and the builder during the entire process, answering any questions they had about accessibility, as well as completing the final inspection once the work was complete.
The works included the removal of the bath, vanity and shower with hob in Michael's bathroom, and was replaced with a level access shower, toilet and accessible vanity. Smaller windows were also fitted to allow the toilet to be installed within the bathroom area.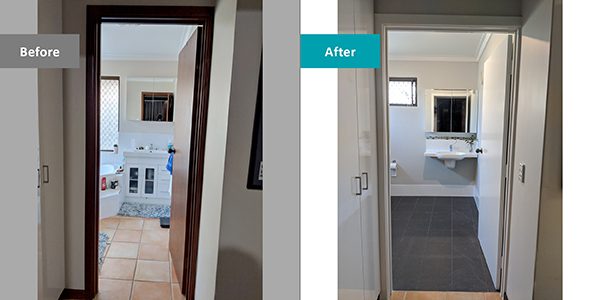 Initial assessment by Rocky Bay's occupational therapy team, through to the completion of the building work was around one year, with the works taking just a few weeks to be completed.
Lisa said that the home modifications have had an immediate impact on daily life in the Pisan household.
"Having the area modified now allows Michael to use the bathroom facilities closest to his bedroom, rather than the ensuite at the other end of the house," said Lisa.
"The open plan bathroom area also gives Michael the opportunity to increase his independence when it comes to daily tasks, and he can actually access the area to reach the vanity and the taps in the shower.
"There is also a lot more space in the bathroom in instances where Michael requires assistance."
Michael explained that the home modifications have been imperative for taking control of basic daily tasks. He is now able to shower with very little help, and has control over the taps, water temperature and pressure, as well as being able to reach the vanity to wash his hands in the basin.
"I feel I am gaining independence," Michael said.
"The modifications have had a great impact on my life. I was once very independent, and they are helping me return to as normal a life as possible.
"It is good to be able to make the simplest of decisions without having to rely on anyone. Rocky Bay has been fantastic to me in this journey, they have assisted in many aspects of my life.
"Lisa is an amazing advocate. She is the one who has completed every aspect of the applications, and did it with such a positive demeanour. Rocky Bay is a great organisation, and I cannot thank them enough for their help, support and kindness in my journey."
Lisa said that it's always rewarding to see the final product for home modifications.
"Michael is really motivated to regain his independence. It is great to see that our input around accessibility has provided him the opportunity to become more independent with his daily living activities."
To find out more about Rocky Bay's services, including occupational therapy, please call us on 08 6282 1900 or click here.