In April, Rocky Bay launched a brand new service – Dietetics – which has already proved to be an extremely popular service with our customers, offering support with:
Consultations and nutritional assessment
Weight management
Diabetes management
Loss of appetite
Nutrition supplement management
Feeding assistance management, including PEG and HEN
Working with speech pathologists to address needs relating to dysphagia, and with occupational therapists to address fussy eating
Rocky Bay's Advanced Clinician Dietitian, Catherine Keane, shares with us a little more about what her role involves with our below Q&A, and has even shared some of her top tips for healthy eating and a delicious recipe – check them out below!
Q&A WITH CATHERINE
What does your role at Rocky Bay involve?
My role involves assessing the dietary needs of customers and working with them to find practical ways to meet their requirements.
For some we focus on healthy eating, and others may require more high energy and high protein foods. Textured modified foods can be a challenge for some, so we discuss ways to make eating more enjoyable or achieving their nutrient requirements through nourishing fluids or supplements, while adhering to their Eating, Drinking, Swallowing (EDS) recommendations.
For customers who are unable to eat or consume enough to meet their needs, then I help them manage their intake in alternative ways such as Enteral Feeding or tube feeding.
Tell us more about your experience?
I completed my Bachelor of Nutrition and Post Graduate Diploma in Dietetics at Curtin University and went straight into a role as a Clinical Dietitian at Sir Charles Gairdner Hospital. Here I worked in a range of specialist areas, including neurology and neurosurgery, general surgery, oncology and intensive care.
Following some time off to have children, I returned to work in aged care working with residents and assessing menus.
Prior to this, I worked as a medical scientist in Molecular Neurogenetics which was a diagnostic role for inherited neuromuscular conditions.
What do you love most about your field of work? 
Having the privilege of working with customers getting to know a little bit about them and helping them, even in some small way, to achieve their goals.
What are your top tips for healthy eating?
The best healthy eating tip if you need to watch your weight or have been eating a lot of those treat foods while in isolation during COVID-19 is to fill up on vegetables!
Aim to fill half your plate with vegies – although this does not include potatoes as these should be a smaller portion. Vegetables are rich in nutrients and fibre and try to eat a rainbow of colours.
Frozen vegetables are fabulous too and super handy to make speedy meals like the one included from livelighter.com.au. This is a great website with lots of healthy recipes and tips.
Turn off the TV and put phones away during dinner time to enable you to focus on your meal and enjoy what you have made. It is also a great opportunity for families to sit together and talk, as so often we eat on the run or watching TV and miss out on that rare time to be together
CATHERINE'S HEALTHY CHICKEN FRIED RICE
Ingredients
1 tsp canola oil
1/2 brown onion, thinly sliced
200g skinless chicken breast, chopped
3 cups frozen mixed vegetables
250g cooked brown rice
1 tbs reduced-salt soy sauce
1 tbs sweet chilli sauce
3 tbs unsalted roasted cashews
Method
Heat oil in a large wok or frypan and add onion. Cook, stirring for two minutes until onions are starting to soften.
Add the chiken and cook for three minutes, until outside is golden brown.
Add frozen mixed vegetables and continue to cook on a high heat, stirring often, until the vegies are defrosted and the chicken is cooked through.
Add the rice, sweet chilli sauce and soy sauce, stirring until rice is hot.
Serve, and sprinkly with roasted cashews. You can also serve with fresh chilli and a squeeze of lime.
Variations
Use any combination of fresh and frozen vegetables – use up whatever you have!
Try frozen prawns or a quick omelette instead of chicken
Remove the cashews for a nut-free option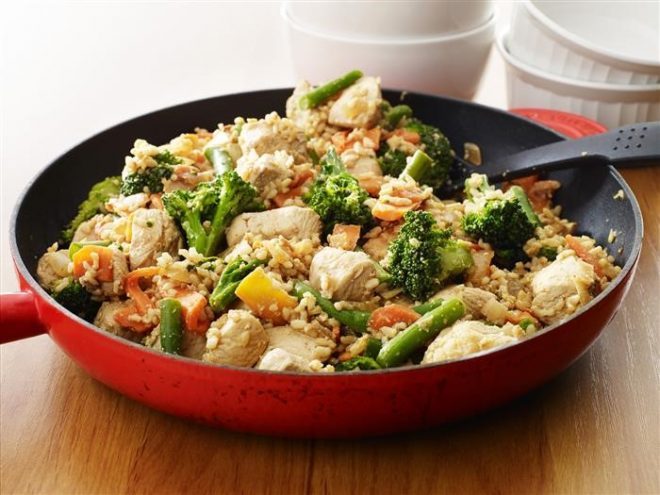 To find out more about Rocky Bay's dietetics services, call our friendly Customer Engagement team on 6282 1900 or visit https://www.rockybay.org.au/dietetics/