The hats were out on Tuesday 5th November for Getabout's Melbourne Cup lunch.
The day was a huge success with over 80 members enjoying the music, food and racing in Getabout's courtyard at Rocky Bay in Mosman Park.
This annual occasion is guaranteed to bring out a multitude of colourful hats with smiles to match. It was lovely to see so many people having fun in the sun.
This year, decorations were provided by over 150 students from St Hilda's Anglican School for Girls who created horse themed wall hangings, trophies, fascinators, streamers and balloons.
Head of Science, Ms Helen Thompson, activity coordinator for the decorations, said she would like it to become a regular thing.
"It's a bit of fun for the girls but it is also important for them to do things for other people rather than focusing on themselves."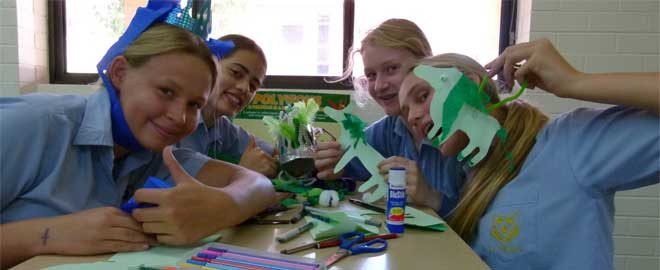 Volunteers from St Hilda's School make decorations for the Getabout Melbourne Cup Lunch
Staff from Automotive Holdings Group (AHG) volunteered their time to put up decorations, prepare and serve food. AHG have supported Rocky Bay for over ten years raising $1.3 million through an annual golf day. The Melbourne Cup lunch provided AHG staff with a great opportunity to meet and interact with many of the beneficiaries of their ongoing support.
Bookies favourite Fiorente won the big race but thanks to Getabout and the support of volunteers from the community, St Hilda's and AHG, everyone was a winner!
Thanks to everyone who made the day so special for so many Rocky Bay clients.
Volunteers are truly priceless. If you're interested in volunteering for Rocky Bay, as an individual or a business, our Volunteer Co-ordinator would be happy to hear from you. Go to 'Contact Us' and select volunteering to submit an enquiry.