Rocky Bay supports everyday West Australians living with disability achieve great things. It is Rocky Bay's customers, dedicated staff and the generosity of the community that have allowed the organisation to support people living with disability for over 80 years.
Thanks to the generosity of Maurice Grant Lewis (Grant to his friends and family), a Rocky Bay customer of 11 years who sadly passed away on 18 September 2019, Rocky Bay is in an even better position to help support more than 3,000 customers.
On Grant's passing, he bequeathed his estate to Rocky Bay, and in addition his family donated some equipment belonging to him, including two powered wheelchairs.
Grant was diagnosed with Limb-girdle Muscular Dystrophy in 1986 when he was 27-years-old, which meant the end of his career in mining. Many years later, he was diagnosed with salivary gland and bowel cancer, both of which were successfully treated, until at age 57, Grant was diagnosed with lung cancer and was given two years to live.
Throughout his health battles, Grant kept mobile by using a powered wheelchair and lived independently with the help of carers, and continued to take much pleasure in his passions of gardening and cooking, sharing his skills with his carers.
"He was always very happy to say he had out lived his 'use by date'", says a representative from Grant's family.
"Grant never gave up and faced each and every battle head on."
Grant was initially supported by Rocky Bay with transport and physiotherapy, and later with respite services at The Beach House in Rockingham, where he enjoyed staying as it enabled him to visit the jetty to fish, another of his life's passions.
"Grant had experience of how hard it could be to get assistance, such as respite, with limited resources available, especially if there was an emergency," said his family.
"He wanted to leave a legacy in the hope that it would help someone else who found themselves in a similar position to what he had been in the past.
"His wish was that they might have an easier path."
Rocky Bay's Property team helped ready Grant's house in Armadale for sale by completing refurbishment works, including painting, flooring repairs, cleaning the internal and external windows and general clearing.
Rocky Bay's Supported Accommodation General Manager, Jane Edmond, explains that Grant's bequest means Rocky Bay can help even more people living with disability in need of accommodation.
"We are extremely grateful and humbled to have been chosen to benefit from Grant's generous bequest," said Jane.
"It will mean that we can use the funds toward a new Specialist Disability Accommodation development in the Maddington area that will offer contemporary, high quality housing options to people with disabilities who are currently living in accommodation that does not meet their needs.
"The new housing will significantly improve people's everyday lives, enabling them to have increased independence and exercise more choice and control."
Thanks to the donation of Grant's powered wheelchairs, the Rocky Bay Equipment team was able to assist a customer, with complex postural and respiratory needs, with a very much-needed part for their own powered wheelchair.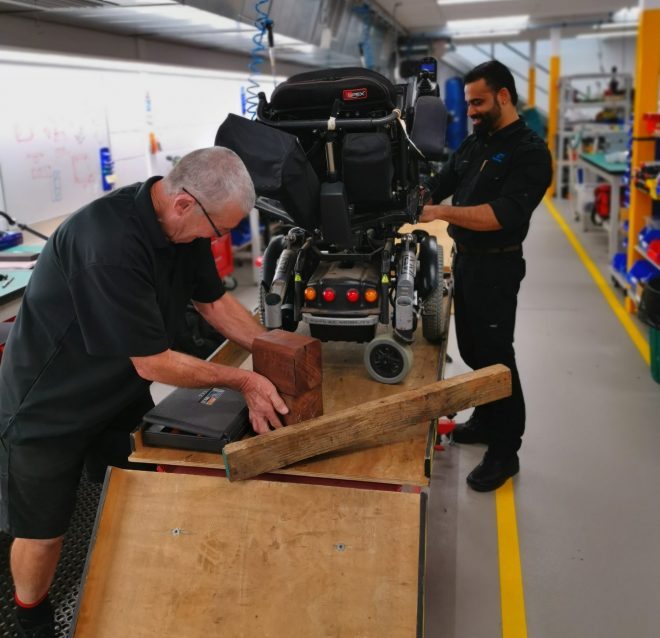 The motors and gearboxes on the wheelchair had been failing for many months, and further delays were caused when the Rocky Bay Equipment team ran into stumbling blocks trying to procure the required parts. To add to this, the particular powered wheelchair the customer was using is quite rare, and its parts difficult to obtain.
Rocky Bay Equipment Manager, Eamon O'Brien, said the timing of receiving the equipment donations from Grant's family could not have been more perfect.
"We had a customer's wheelchair in the workshop, the gearboxes had completely failed and no second hand part could be fitted to get him mobile," said Eamon.
"We thought we'd run out of options, then the donation of Grant's wheelchair arrived. We quickly pulled the motors and gearboxes out and transferred them to our customer's wheelchair. The serviced wheelchair was picked up that afternoon."
New motors have also since been fitted to Grant's powered wheelchair, which is now ready for hire or resale for yet another customer in need.
His family said Grant would have been elated to know that he helped others.
"His passing wish was that he could help someone and make life a little easier than he himself experienced on some occasions, to make a little difference in their life."
In recognition of Grant, Rocky Bay will look to acknowledge his bequest by either naming a property after him, or by way of a plaque of acknowledgment on the new building.
"It was my pleasure to meet Grant, and then after his passing, his sisters," said Jane.
"All of the family are kind and generous people who have a strong desire to improve the lives of people living with disability."
To find out more about our supported accommodation options, call our friendly team on 08 6282 1900.