"If you never try, you'll never know"
Would you like to learn some new skills and challenge yourself in an adventurous, supportive and inclusive environment. Rocky Bay is running a brand NEW Physical Recreation Program.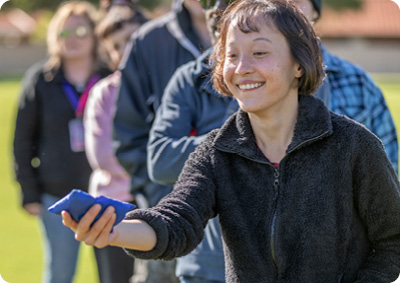 Join Joel McKenna, Activities Coordinator and qualified support worker for a 6 week program of invigorating and exciting weekly sessions.
Take the opportunity to try new activities in a fun and inclusive way
Get active and improve team building proficiency
Work on your coordination and practice movement skills
Share games and laughter with a small group of others
Program Structure
This program commences Monday,26 July for 6 weekly sessions (ends 30 August). The sessions run 12:30pm – 2:30pm.
Use your NDIS funding for the majority of the course fee
Where: Mosman Park Hub, Gym
Eligibility Criteria:
Can follow 3 step instructions
Happy to participate in team activities
Understand how to work towards completing an activity with others
Able to attend with a Support Worker or Carer
Program open to existing Rocky Bay customers only
Costing Outline (not including 1:1 support required on the day)
The group is bundled under the NDIS Programs of Support Structure. For more information, please contact Joel McKenna – [email protected]
Intended outcomes of the group:
Participants discover new activities that they enjoy and would like to further pursue
Participants feel able and comfortable to participate more fully in the team activities
Cancellation Policy: 2 week notice period required to withdraw from the group