Clarrie, one of our supported accommodation customers, was excited to receive the gift of communication with his family, thanks to Rocky Bay's Wishing Tree program.
The Wishing Tree granted a wish for Clarrie made on his behalf by Rocky Bay Supported Accommodation Team Leader, Patrick McKenna, for a mobile phone with sim card, head phones and speaker box.
Whilst waiting for his new NDIS plan to resume, which would include community access hours, Rocky Bay's supported accommodation staff arranged to support Clarrie to access the community to be able to maintain contact with his family each weekend. However, visits were soon limited to one-on-one contact when coronavirus restrictions were put in place in WA.
While it has been a challenge adjusting to a new way of living in the COVID-19 environment, one of the biggest struggles many families have faced, Clarrie's included, is not being able to visit with each other during restrictions. This is especially challenging for those in our community who are vulnerable or unable to leave home at this time, and the use of technology to keep in touch with loved ones has been more important than ever before.
Patrick knew that Clarrie would greatly benefit from having a piece of technology he would be able to use to video call his family. Clarrie is also a big music fan, and with an old iPod not in working condition, the new device and headphones mean he can now listen to his favourite music at any time.
"Clarrie having access to these pieces of technology provide him with an opportunity to maintain vital contact with his mum and loved ones, and give him the experience of listening to music in his own space," explained Patrick.
"He will benefit from this wish as he loves his mum and was extremely disappointed being unable to see her on the weekends due to illness and social distancing barriers."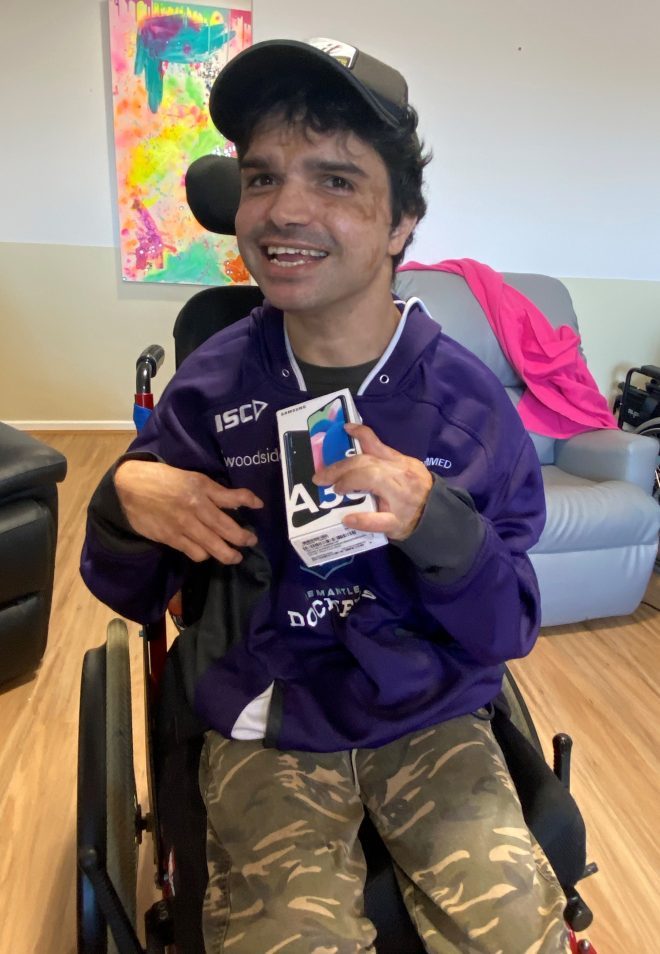 Clarrie was absolutely ecstatic to receive his special gift from the Wishing Tree, and looks forward to be able to see his family via video call at any time!
The Rocky Bay Wishing Tree is funded entirely by donations and allow Rocky Bay to grant wishes for special experiences or equipment for customers when no other funding source is available to them.
Click here to find out more about gifting a wish to a customer.