Students at Castlereagh Primary school will have something to look forward to this year, thanks to a generous Rocky Bay donation.
The legacy of Cian Bailey lives on at the specialist school through his namesake pedal Go-Kart – 'Cian's Cart' – when returning students will have access to a fully modified Go-Kart, allowing students of all abilities to have fun on the school's track.
Following an acquired infection shortly after his birth which resulted in severe brain damage and Hydrocephalus – a buildup of fluid in the brain, Cian endured a difficult start to life. He had little to no eye sight and was unable to sit up or stand.
With more able-bodied students enjoying pedaling Go-Karts on the specially-made track at the Willetton Specialist Education Support School, Castlereagh School, Cian's mother, Gemma Bailey, wanted to make the same opportunities available for wheelchair bound students.
Gemma spoke to her father–in–law, retired engineer Tim Bailey, about the possibility of modifying one of the School's Go-Karts to meet the requirement and he set about developing a design and sourcing parts.
Requiring a seat that could support a person's upper body and head, Mr. Bailey approached one provider looking for an appropriate chair with a harness that he could fit to the Go-Kart.
Following a prohibitive quote of $12,000, one of Mr. Bailey's running club friends suggested that he should contact Rocky Bay which resulted in Rocky Bay gifting a shower chair that could be modified and fitted to the Go-Kart. Subsequently, a number of other organisations and companies donated special pedals, handlebars, steel and aluminium materials and fabrication including finishing paintwork, artwork and decals.
Assembly of the modified Go-Kart as well as most of the fabrication work was carried out at no cost in the Malaga factory of Wheelchairs-for-Kids, resulting in a fun vehicle in which Cian and other children with significant disabilities could ride with a little help from someone behind pushing and steering it.
Regrettably, however, Cian wasn't able to put this bespoke, custom-made cart to use as he passed away last August at nearly 14 years of age due to his many medical problems.
His parents, Tim Jnr and Gemma Bailey, presented the modified Go-Kart back to Castlereagh School, where their son had attended for nine years and the school unveiled 'Cian's Cart' at an official opening ceremony in November 2021.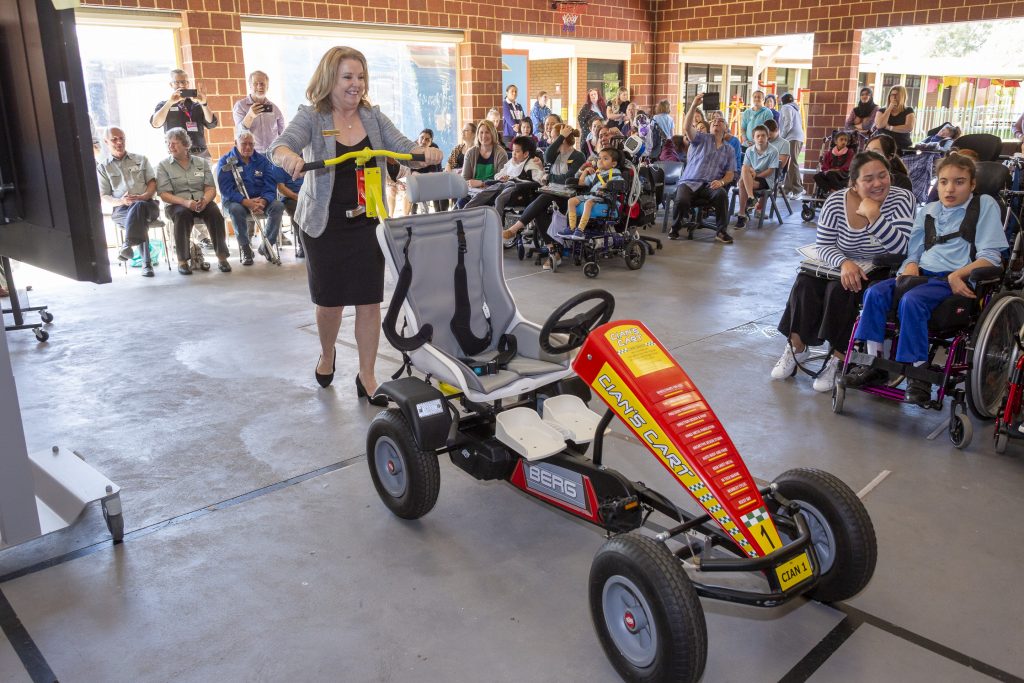 Cian's Cart will allow students with limited or no mobility to be included in 'track time' and help ensure inclusivity and opportunity for all students while providing a lasting legacy of Cian's strong spirit.
Although Cian's Cart is the accumulation of many contributions by numerous individuals and organisations, Castlereagh Principal, Ms. Jacqueline Burns, is very grateful for the generous support given to the project by Rocky Bay and the inscription on a photograph of the unveiling of 'Cian's Cart' which has been presented to Rocky Bay, is as follows:
"Ms. Jacqueline Burns, the Castlereagh School staff and the parents of the children who attend this wonderful school convey their most sincere gratitude to Rocky Bay for the major contribution that Rocky Bay made in bringing this much-appreciated project to a very successful conclusion," she said.
Now all students of all abilities at Castlereagh School have a little something extra to look forward to.
For any queries about Rocky Bay equipment, visit: https://equipment.rockybay.org.au/ or email: [email protected] or call: 6399 4191. Walk-ins are also welcome at 13 Baling St, Cockburn Central, WA, with no appointments necessary.