Rocky Bay and Audi Centre Perth are excited to announce they entered a new two-year partnership in January 2020, which will see Audi Centre Perth provide Rocky Bay a subsidised rate on pool fleet vehicles to assist with reducing fleet costs.
In a major coup for Rocky Bay customers, Audi Centre Perth has also opened its doors for work placements through Rocky Bay's National Disability Insurance Scheme (NDIS) funded Finding and Keeping a Job Program, which supports those living with disability to gain invaluable work experience, develop skills and gain independence.
The partnership will also see Audi Centre Perth provide major sponsorship for key fundraising and customer events.
Rocky Bay CEO, Michael Tait, said the partnership provided a new and innovative way to solve an industry issue and ensure that Rocky Bay could continue to provide professional and sustainable services to its customers.
"Transport continues to be a key concern for many providers under the NDIS, and finding a cost-effective way to ensure our customers can enjoy access and inclusion within their communities was of the utmost importance to us," Mr Tait said.
"I believe it is vital that we build complementary partnerships with businesses that align with our values in order to achieve our vision within the new NDIS world.
"This partnership will assist us as an organisation to increase awareness in the community space and break down the perceptions around employment, and general access, for people living with disability.
"It can be very difficult for people with disability to find and keep a job, so any chance we can give our customers to have exposure to work experience in a quality organisation such as Audi Centre Perth is vital.
"For our customers to see quality practices, build confidence and increase their abilities, to give them hope that employment is an opportunity for them, is so important.
"The more we can do this, the more we can increase the rate of employment for people with disability.
"We are extremely grateful to Audi Centre Perth for their generosity and support, in particular Bronte Howson, and we look forward to continuing to work together over the coming years for the benefit of the Rocky Bay community."
The partnership builds on a strong relationship of more than 20 years with dealership owner and Managing Director, Bronte Howson. Mr Howson was presented with a Life Membership for Rocky Bay in 2004, when he was Managing Director of Automotive Holdings Group.
Mr Howson explained that Audi Centre Perth had always been inherently aware of the importance of giving back to the community in which it operates.
"We have a passion for Rocky Bay and we want to make a difference," Mr Howson said.
"We want this to be a true partnership, and we want to be able to assist in areas wherever we can, as well as provide necessary transport.
"Disability services are traditionally short of funds and resources, and as vehicles are an integral resource, this is an area where we can logically make a real and positive difference.
"We do this through investing in Rocky Bay's access to Audi vehicles that offer a premium level of safety and technology – making the day-to-day movements of Rocky Bay's customers and staff both safer and more comfortable.
"We are also helping through employment areas, such as work experience. This is more than just providing vehicles – we want it to be more than that.
"This partnership takes its place within the heart of my business."
Mitch Vermeulen is currently undertaking supervised work experience at Audi Centre Perth alongside technicians in the service workshop, as part of Rocky Bay's NDIS-funded Finding and Keeping a Job program.
Like many young men, Mitch, who is 18 years of age and has an intellectual disability, hopes to one day fulfil his career ambitions of becoming a mechanic.
"I'd like to become a light vehicle mechanic and maybe move up north to work up there," Mitch said.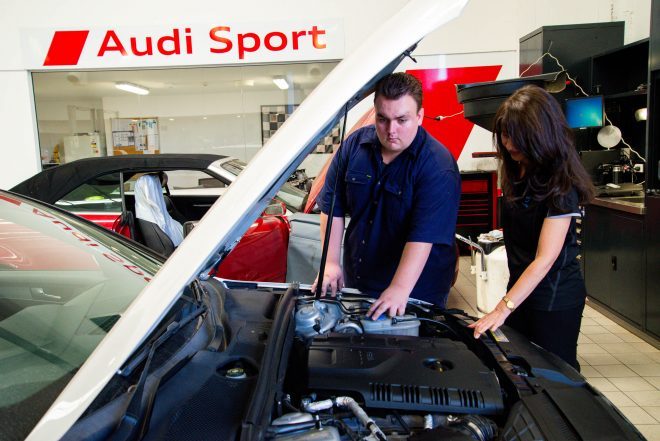 Mitch is completing a Certificate 2 in Automotive Light Engineering at TAFE and practical work experience forms part of the course requirements, making the work experience placement at Audi Centre Perth the perfect match.
"It's all a new experience and it's really exciting. I've worked on different types of cars, helping with the changing of tyres, and checking tyre pressure."
Mitch has also assisted in removing front bumper wheel trims when needed, observed Audi technicians run electronic diagnostics, and helped with the hoisting of vehicles.
Rocky Bay Disability Support Worker, Rebecca Wright Davison, said Mitch was now chatting to the staff and having banter with his work mates, which was a big step.
"It has been great to see him thrive in such a supportive environment."
For more information on Rocky Bay's services, please call our friendly Customer Engagement team on 6282 1900 or email [email protected]
Note: We take social distancing very seriously and would like to assure you that these photos were taken before social distancing measures were put in place.